Hello, Friends! I spent much of yesterday at airports and on flights returning from one of my half marathon weekends. My morning began with an Uber ride to the San Diego airport, followed by a flight to Detroit, then on to Minneapolis. Once there, I was faced with a 3 1/2 hour layover before my flight to Rochester and the realization that I'd only gotten around 1000 steps. I was not okay with the ridiculous lack of activity that number revealed.
A person rushes to get to the terminal well before a flight to just sit…a hurry up and wait kind of deal. I've often thought airports would be great places for treadmills; wouldn't that be a perfect way to pass that wasted time? But since that brilliance has yet to catch on, I took full advantage of the expansive stretch of concourses within MSP. I set a simple ground rule for myself. skipping all mechanically powered options, thereby racking up my daily 10,000 step goal as quickly/efficiently as possible. So here's what that looked like…
Pardon the blur of these pics…I was on the go! I skipped each and every people mover along the way, cautiously avoiding the carts…those could kill a person!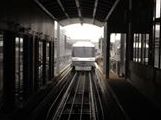 I passed right by those train stops too.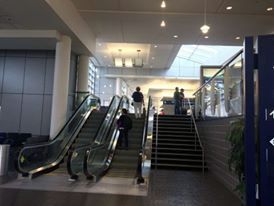 And although the escalators were darn tempting, I opted for the stairs every time. I hauled myself from the F concourse, clear to A and back to F…I didn't even bother with G. Keep in mind, I did not have a roller board bag, just an over-the-shoulder style, but that added to my workout. Why? I had a five pound Himalayan salt lamp in that baby! I worked up quite a sweat (lucky for others later, I had the seat to myself on the final flight).
I was getting pretty thirsty by then. But I have that one figured out, Friends…one of my favorite airport hacks! TSA will not allow a person to carry a filled water bottle through. But they have no problem with an empty one. So I bring my empty and fill it up just past security.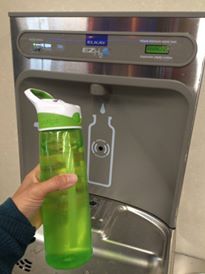 After all, a traveler must stay hydrated. Plus at $3 a bottle, you'd be nuts not to carry your own!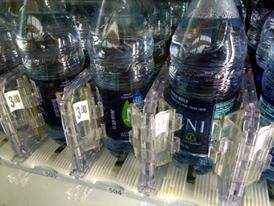 So I'd walked the entire terminal twice and had neared my step goal. But in doing so, I was accomplishing a second aim as well. It was now dinner time and in walking the full length times two, I was able to see the full picture of what my food options were. And with that I was able to make an informed, smart choice!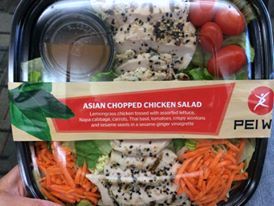 As I walked once more to the C concourse where my gate was, I saw it! I must have been moving so quickly I completely missed it. Twice. And it was as amazing as I had imagined. No, better! I am in love, fellow FIT BFFs! An airport treadmill workstation!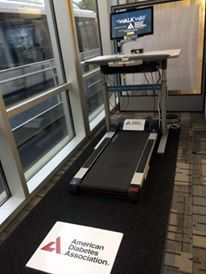 I sensed, in that moment, the rain clouds parted and angels sang…I was just that in awe! I know where I'll be next layover, Folks!
Well, there you have it, my airport workout. With a few simple rules, I managed to rack up my daily step goal and more!

Friends, next time you are faced with extra time at an airport, get those steps in; it's just one more way to put your Best Foot Forward!