Hello Friends, in continuing my half marathon each month this year goal, today's adventure brought all new excitement to my journey! I've said it before and I'll say it again, each race tells a unique and valuable story for a runner. This half proved to be both!
It all began this morning in my cherished hometown of Rochester, MN. I've run a bunch of races all over the place this year, and I'll admit it was comforting to know this one was right here. I was well rested having not traveled hundreds of miles to get here. My nutrition was on point because I wasn't relying on restaurants. I recently turned a corner with my running and was feeling more confident than ever. I was really excited at the prospect of a possible PR.
I was bursting with hometown pride as I checked out the starting line. The Med City Fall Half started right there on the airport runway. How cool is that?!?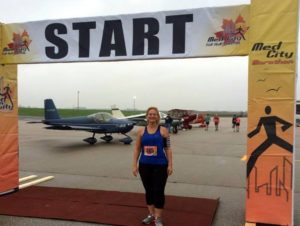 I love that the first few moments of this race would be run between rows of some pretty fantastic, privately owned planes.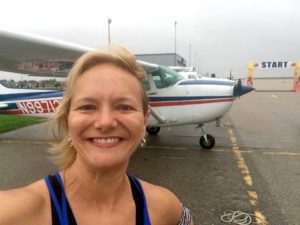 I've flown into and out of the Rochester International Airport many times, but never before on foot! What a fun race element this was, allowing runners to feel as if we were lifting off at the start! The weather was overcast and in the mid-sixties. As the race began, the sky began to spit, and I was in my happy place! The first few miles felt incredible, strong! By mile 5, a PR was looking very possible. The miles were ticking away through the beautiful contryside just outside of town.
By mile 6 my knee was reminding me it had been less than eager earlier this week, and by mile 7 it shut down my running. Entirely. As I limped through the beginning of mile 8, I had a tough time coaxing the next steps. If you know me well or have been reading my blog for a while, you know I'm not a quitter. I often joke that I will cross that finish line if I have to crawl!
I'd slowed to a stop. I could no longer put one foot in front of the other, couldn't even bear weight on my left leg. I was totally immobile. I was also completely alone until I soon heard a quiet hum. I realized the race sweeper had pulled up a short distance behind me. I was the last runner…a reality I'd never before experienced. The driver was so kind; he gave me a respectful distance. When he realized I was no longer capable of moving, he asked if I required assistance.
My body and mind have always been a cooperative team, but not in this moment…another all-new situation. It was surreal knowing I was done; there was no longer any choice. I mean, what are ya gonna do?!? It was impressive how quickly the sweeper summoned a medic, and I was immediately whisked away by these great volunteers…talk about service with a smile!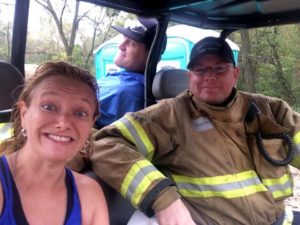 I've had the luxury of crossing each finish line of past races on foot, so this fast forward was new to me too. They efficiently orchestrated my speedy delivery around and through the remainder of the course, straight over the finish. A kind and clearly empathetic volunteer placed a medal on me as a few spectators cheered in support. The thought that crossed my mind in that moment was they should've cut off a chunk of the medal because I only earned two-thirds.
A strong responder hoisted me off the cart and hauled me into the first aid tent…clearly he spends time at the gym haha! I found myself quickly and expertly examined by a sports therapy angel.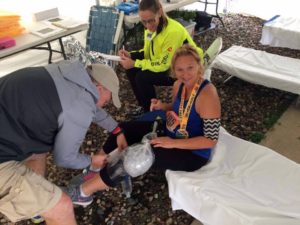 Thankfully, my suspicion was confirmed. My IT band was in massive revolt. To those of you who need some translation…I dodged some very big bullets! I have lots of ice, foam rolling, rest and a trip to Active PT in my near future.
So, Friends, the bad news here is that I was not able to run beyond the race today to accomplish my 18 mile long run for today's marathon training. The good news? I crossed the finish line in record time. Sort of lol! Always a bright side!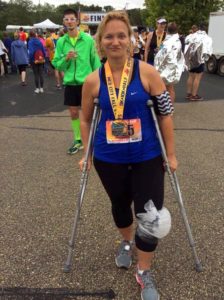 At the end of the day, some you win, some you don't…Que Sera.