Friends, I have no idea what happened…a minute ago it was Monday and somehow it's already time for 52 Fridays-Week 2! I admit, I ran the full length of this week. Between making my workouts a priority, tying up all sorts of miscellaneous loose ends, filling some of my etsy shop orders and doing some long-range lesson planning for a class I teach…the week got completely away from me. But that's all about to change! My guys left early this morning to do something they absolutely LOVE…ice fishing near the Canadian border for four. whole. days!!! Do you know what that means for me?!? Yup, FOUR DAYS of ME TIME!!!
This brings me to our 52 Fridays theme for the week. Pull out those shiny new, barely broken-in journals, find a quiet spot, a few uninterrupted moments for yourself and get comfortable. Here's your thought to ponder…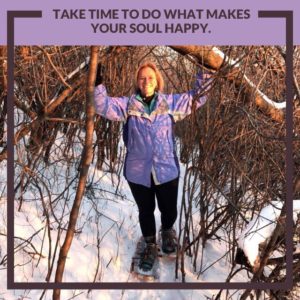 Do you make time for what makes you truly happy? Do you even remember what it is that makes your soul smile? Pause to reflect on what these things are, then consider making some plans to do them more often or to simply get back to doing them at all. Here's a little secret I've learned…in this hectic day and age, our souls are not on happy autopilot; we must be intentional about nourishing them. Is a happy soul high on your list of priorities? If so, what will you do to make this happen? How soon can you start?
Once you're done and if you feel comfortable, leave a comment below sharing one thing your soul is looking forward to doing more often.
Now if you'll excuse me, I need to get my plan in order because I know how quickly these four days are going to fly!