Happy Friday, Friends! I'm SOOOO on top of this week's 52 Fridays thought! I've had my coffee and was already relaxed into my chair as I did a little end of week meditation…just part of my mindfulness practice. I couldn't help but think how calm I've been this week and as I dug into the why, it kept coming back to something I don't often talk about.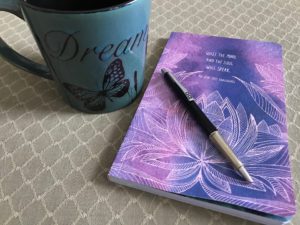 So, Friends, grab your journal, pen, soothing beverage and settle in for a few moments to adventure with me on this journaling journey of you!
What is sacred space? It's a term that I have heard more and more, lately, as I've delved deeper into my spiritual awareness. As I searched the internet for a simple definition, I realized no two explanations are alike. Why? I feel like we have such varying interpretations because each of us experiences sacred space in our own unique and individual ways…so much so, I had great difficulty finding an all encompassing definition that applied to me, let alone everyone else.
I did find one vague enough that resonated for me on thefreedictionary.com…see what you think.
sacred space,
n
space—tangible
 or 
otherwise—that
enables
those
who
acknowledge
and
accept
 it to 
feel
reverence
and
connection 
with
the
spiritual.
Give that some thought; feel free to jot down what comes forth. Do you take time within what you would consider your sacred space, whether it be in a physical or non-physical place. If so, what does this space look like for you? Is your space within or outside of you, indoors or out? How does it feel? Do you associate any smells or scents with that space? Any sounds? Is this a space you can go freely, at any time? Do you wish you could spend more time within that space? If so, what's holding you back? Has your sacred space shifted throughout your life?
Is your space inside or outdoors…within or outside of you?