Happy November, Friends!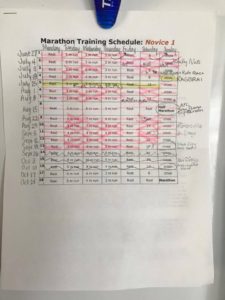 I have survived my marathon hangover, have torn the much-edited training schedule clear off my fridge and am ready to set and accomplish new goals!
I very recently (like yesterday) accepted a challenge hosted by a kindred spirit on a Facebook page I adore, From Fat to Finish Line (the closed group). John Hulsey has challenged readers to "A Healthy, Happy, Holiday Challenge."
This is the same incredible guy that was willing to meet up with me a few weeks ago in San Diego…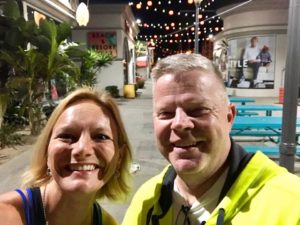 So this is his fantastic challenge…it's simultaneously simple yet genius!
Here's how it goes…
"From Halloween to New Year's Eve. Two months. Sixty days. And yes, you can do this. The specifics of the challenge are up to each one of us. Maybe you need to track your food. Maybe you want to commit to a training plan. Maybe there are foods (or drinks) that you want to avoid. Pick your own accountability plan. Share it with us. And then get (and give) support. It's that simple. And in sixty days, while everyone else is worrying over how much weight they have gained over the holidays, we will all be feeling great knowing we stuck to our plans and made it through even better than when we started. If you want to be held accountable, it's up to you to share your plans. Let's make this holiday season a time to remember!"
In the true and giving spirit of the holidays, I hope John is flattered that I am stealing passing along his brilliance, rather than considering legal action against me lol! After all, we are all in this pursuit of health and happiness together, right?
So, fellow FIT BFFs, I say we commit to this challenge here too. I know we are a day late, but that's the story of my life haha. And no, it's not my original idea, but why reinvent an already perfect wheel? I will plan to post a How's it Going kind of post every week and those participating can chime in…I hope you will ALL participate because Baby, you're worth it!
We put so much time, money and energy into everyone else's enjoyment of the holidays. Let's make investing in our health and happiness a priority too! I can't think of a better gift we can give ourselves and, in turn, our loved ones.
I'll start right now…
Today I commit to doing these for the next two months:
Tracking my eating…nutrition has been a struggle for me lately and I need to rein it in!
Set aside time to read some books I've been meaning to read on healing and mindfulness.
Amp up my strength training and continue some running so I am able to join John at the starting line of San Diego's Holiday Half December 18th (if he's still speaking to me after today).
This is my plan for this part of my journey. Likely, you have different ideas for yourself. Whether it's one goal or more…nothing is too big or too small…I'd love to hear them!
So what are you committing to do for yourself for the next two months? Please leave a comment below, then get busy. Let's all put our Best Foot Forward this holiday season!