Hello Friends; it's been a while since I've blogged, but I couldn't let Veterans Day slip by without thanking all the men and women who put their lives and hearts into defending our freedom every single day. I've had an extraordianry lesson, recently, in just how amazing these folks were/are, and it's time I attempt to put that experience into words.
Two weeks ago, after months of training runs and weeks of injury rehab, it was time to trust in my training. Still stunned by the reality of this great opportunity, I was about to run the Marine Corps Marathon in Washington DC! It was time to do my best, to hope for the best…it was really all I could do!
Reality hit at the race expo. With that bib in hand, I knew there was no going back now…but I wouldn't dream of it. Here's a pic of my long distance training buddies, Matt (who's bright idea and support made this happen) from Alaska and Jackie (our interval queen) from San Diego…It still blows my mind that we'd come together to do this!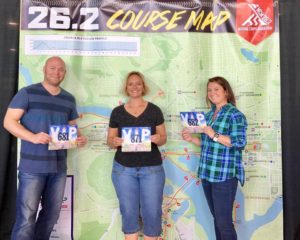 I prepared the night before, laid out my Flat Carla to make sure nothing was forgotten. Note the Air Force dog tags, a tresured reminder from my dad to persevere. And then there was the photo, and the kinesio tape. Two more things that would assist!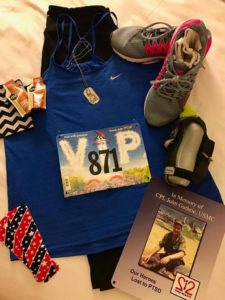 I didn't get much sleep that night before; I couldn't turn off the anticipation that filled my head. I had no idea how my body would hold up. I was stressing about my ability to meet the time requirement to finish. But most importantly, I had the privilege of running in memory of a Marine Veteran, John Guthrie, who succumbed to PTSD…I just couldn't let this fallen hero or his family down. I wore his picture…a lot was riding on my back and heart!
Early the next morning, as I taped up my knee (what an amateur job)…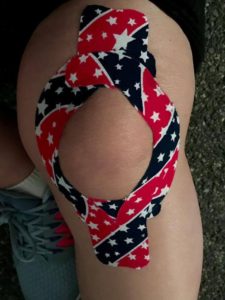 I couldn't help but consider what irony it was that John was a wounded Vietnam soldier, sent home with a gunshot wound to his knee. No matter how tough things got out there, I vowed to press on in John's memory.
We quickly found ourselves on the shuttle that started the forward motion of this life-changing event.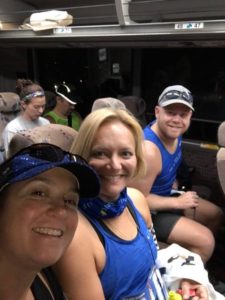 We still had a couple hours before go time, so I made some friends…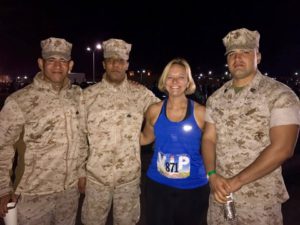 One glance of the sky at the start assured me this would be a truly memorable day.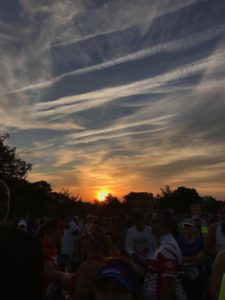 And so it began. Matt, Jackie and I briefly ran together, but eventually separated with our own paces. And that was a good thing, because as I approached the blue mile where many fallen soldiers' pictures were placed, followed by their loved ones holding flags and encouraging us to continue…I needed my space. These young men and women gave their lives to protect us! I barely held my emotions together.
I was reminded of what a wonderful country I live in, what rich history was right here. And how blessed I felt to be running past such national treasures…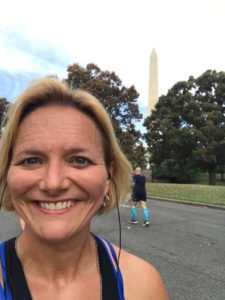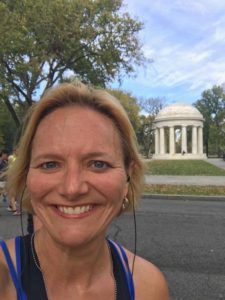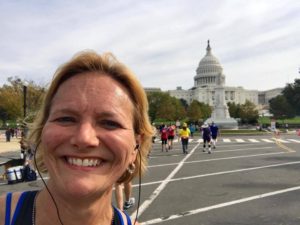 But the real treasures here were all the active duty and retired Marines here to encourage and thank us for running their marathon…there were simply no words.
My pace continued to slow, it was 80 degrees and my knee was starting to squawk. I don't know how it happened, but when this sign came into view, I was so relieved! I'd reached mile 18 before I was cut and I, thankfully, had beat that doggone bridge!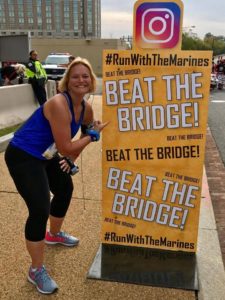 That bridge had been a mental block in my head since the day I'd registered, and John Guthrie and I beat that thing. Together.
The rest is a blur. Once across that bridge, my running was over. I walked, limped and dragged my sorry body forward. I was thrilled to reach the Pentagon because I knew I was getting closer to the finish line.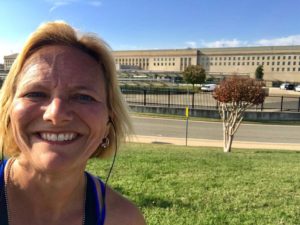 The sun continued to beat down and its effects were responsible for taking many people out of the race. But I refused to be one of them. I did everything I could to continue fueling and hydrating my body. I did a pretty good job of keeping it together. I was more determined than I'd ever been in my life…I was going to finish this thing. But I was only inches from falling apart.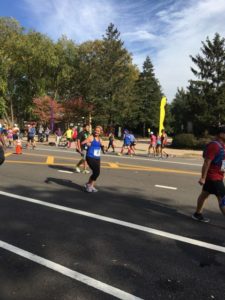 Around mile 25 (I think), at the final waterstop, a retired Marine must have sensed I was avoiding eye contact. I was doing everything in my power to hold it together when he got in my face and told me I was amazing.
And that was it. I lost it. I bawled like a baby, in continued, forward motion, for that final mile. My eyes and emotions leaked all over…so much for that hydration.
That last .2 was a miracle, Friends. I was never so happy to receive a medal! I think I even hugged this young man when he gave it to me.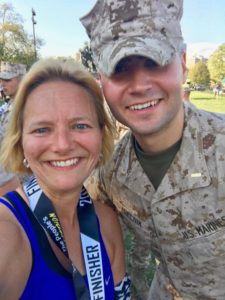 I don't know how I crossed that finish line. Wait, I do I had…the memory of John Guthrie USMC on my back and in my heart. He was the driving force that pushed me forward, over that glorious finish!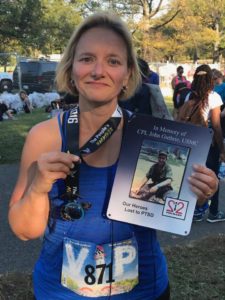 And just as suddenly as it had began, it was finished and recovery began. It had been a whirlwind weekend. As I flew out the next morning, it was kismet I would fly over the Pentagon.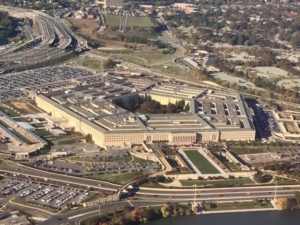 One final, lasting reminder what all the dedicated men and women of our armed forces have done and continue to do so that I can continue to live life as I know it, here on the land that I love.
Happy Veterans Day.