It has been a week since I competed in Cotopaxi's Questival in Las Vegas, but I am still grinning about the experience because it turned out to be far more exciting than I'd anticipated and the outcome still hits me as surreal!
In 24 short hours, we experienced more outrageous and memorable things than I have in years…we shook our hips with Elvis, kissed strangers, arm/leg wrestled while eating a corndog, had a banana fight with a cop, zip-lined down Fremont Street, tied ourselves in a human knot, visited several historic Vegas landmarks, posed like wax statues, stopped at Liberace's home, knocked on Wayne Newton's estate gate, did some volunteer work at several organizations, donated groceries to a cause, fed a homeless woman, and gambled.
We slow-danced with a stranger, ran a mile, hiked several trails…walking and running, air-guitared at the Hard Rock, started fire without matches, cooked a foil dinner, crossed county and state lines, not to mention hitting Tijuana at 4am, camped in a car, under the stars, in a public place, in a hammock…all over, really…took a quick dip in the ocean, bouldered problems inside and out, ate a street taco with no hands, ate worms, shrimp from a questionable origin, ate an entire persimmon, a teammate ate an entire large hot and ready pizza, made a cake in the shape of a llama, yodeled in public, posed for a Polaroid…
We clocked, we planked, did some street magic, picked up some litter, staged an amazing Godzilla impression, performed some kickin' parkour, found an alien in Area 51, stopped at a ghost town, performed a random act of kindness, pet some pets at an animal shelter.  We sprinted between each task, as the list goes on and on.  When all was said and done, we completed a whopping 181 tasks out of more than 300, encouraging one another, laughing and smiling the whole way…in a mere 24 hours!  We carefully captured each task by photo or video and uploaded every last one onto an app for judges to witness.  Were we exhausted?  Heck yeah!  Did it matter?  Not at all!  We were blurry-eyed and sleep-deprived for a fantastic reason!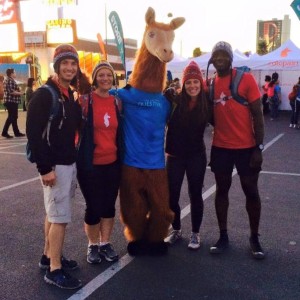 This cohesive, cooperative team was fueled on pure adrenaline and when all was said and done, it was completely worth it!  We did not win the grand prize of a race through South America, but our team, The Aquanauts came in 1st place out of 100 teams!  We won some pretty cool prizes so the adventures can continue!  Here we are with co-founders of Cotopaxi; we can't thank them enough for the adventure of a lifetime!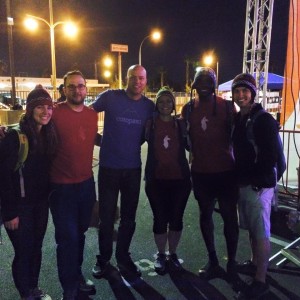 So there you have it, fellow FIT BFFs, my weight-loss milestone…what a heck of a way to celebrate!  The old Carla would never have had the energy, stamina, courage or confidence to take something like this on…much less win!  It has taken me a week to come off the adrenaline rush, the red-eye jet-lag and downright exhaustion, but the smile is still there…and incidentally, so is the tattoo, proudly displayed at the gym!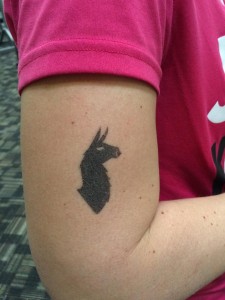 Now to keep my head in the game, it's time to set all new goals.  Although it could never compare to Questival…there seems to be a good challenge for me in Chicago, come September…stay tuned!