Friends, I recently received some yoga products generously provided by Aurorae for a test drive and review. This family business was founded in 2009 by yogi/cancer survivor, Dennis Ingui. I love that what began as a hobby has transformed into a business to empower others to embrace an active lifestyle. You can read more about that inspiring journey here.
I've previously reviewed one of Aurorae's yoga mats, totes and towels here. That mat continues to impress and protect…it is one of the few I don't fear skidding off through my downward dog. I can not say enough wonderful things; it's plain to see high quality is of the utmost importance to this company. It's also obvious they understand and aim to meet the needs of yoga students everywhere!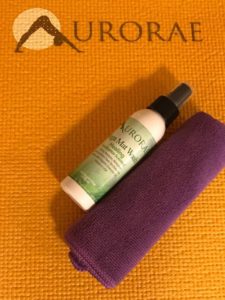 Take, for instance, this organic mat cleaner. Not only is it eco-friendly, it is available in four scents, made in the USA with pure essential oils. I don't think I know a single yoga friend who doesn't adore essential oils! What's better, with the purchase of any mat cleaner comes the free bonus of a plush microfiber cleaning towel. I received the eucalyptus scented wash with towel. Not only do these make quick work of wiping down my mat, it leaves it smelling fresh and me calmed by that relaxing scent…ahhh.
I also got to play with Aurorae's yoga strap. It's 8 foot length is generous enough for any task you need it to perform. The strap is a bit narrower those I've used in studios, but I've noticed no difference in its abilities. I like knowing it's constructed with 100% natural unbleached cotton and again…made in the USA! This strap is helping me get far deeper into some of my poses.
Finally, get a look at this unique sling backpack! I had my doubts that it would fit my needs. When I head to the athletic club for yoga, I also tend to sneak in some major cardio before class. So after shavasana, it's time to hit the showers. This means the need to store extra clothing and toiletries in addition to mat, accessories and water bottle. The moment I saw how small this bag appeared, I thought there was no way my belongings would fit within. Boy, was I mistaken! I could have easily fit another change of clothes in there and probably my flip flops too.
The bag is a warrior…well designed and constructed with so many cool features, it's obvious much thought went into its design. That's awesome, but what I really love about it is how well it hugs me with that wide, comfy shoulder strap…from this pic, you'd hardly even know I had it on!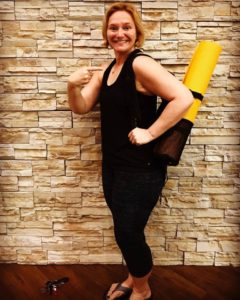 Probably my favorite feature of this bag is its multipurpose nature…I can use it for yoga, other workouts, biking, hikes, travel and beyond…how cool is that?!? I think its versatility is genius.
If you are looking for some products to further your love of your practice, don't miss Aurorae. Stop by their website today to check out these great products and so much more!
To my fine friends at Aurorae, many thanks for this opportunity, and as always…NAMASTE!