Remember the box I received a couple weeks ago? I asked if you could guess what was inside. I was so excited the day it showed up because I knew it contained some pretty fantastic items!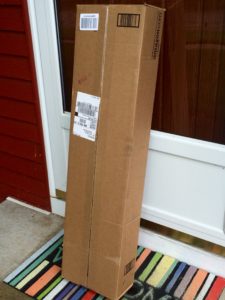 Aurorae very kindly sent me a complimentary yoga mat, yoga tote bag and microfiber beach towel to test and review for all of you. I can honestly tell you, the moment I opened the box was love at first sight. I removed the items, one at a time, appreciating the warmly rich colors and durably constructed materials. They had me at looks and feel, but it was time to test the functionality!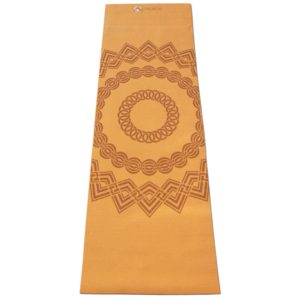 This Aurorae premium printed yoga mat instantly drew me in. Many of you know I adore the sun, and how awesome to take an illuminating reminder of that energy with me to yoga class? If this one doesn't suit your fancy, they have several other prints and solids to choose from. I was thrilled to see how thick this mat is. My previous mat was a mere 3mm thick, but Aurorae's mat is a comfortable thickness of 5mm…that's 1/4 inch of cushiony protection for knees, joints and muscles!
My previous mat was smaller too…this one measures a generous 72″ by 24″ more area for bigger poses! I like the density of this mat compared to my less-expensive, flimsier model. The surface really seems to grip the floor well and I'm stable too, unlike how the stretch and give of my previous mat made me feel less than confident in my practice. This mat is lightweight, toxin-free and eco-friendly…it has my complete approval!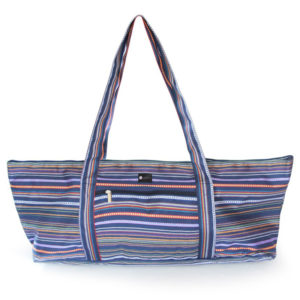 Aurorae's navy pattern yoga tote bag is quite roomy for a yoga mat tote. I immediately adored its vibrant colors, but if this combination doesn't appeal to you, they have several others to choose from. I like the large zip pocket on the outside and another on the inside to securely hold valuables. The bag also has a couple more sleeve-type pockets for other belongings within the fully-lined interior. I appreciate that I can easily fit my mat, towel and a change of clothes within this bag…a big plus for me, as I'd otherwise be carrying my gym bag separately. The large, reinforced straps make transport comfortable no matter how much I pack in there. What an organized, stylish way to travel between yoga class and home! If you haven't already guessed, I give this bag two enthusiastic thumbs up!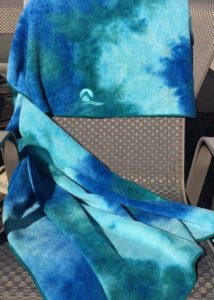 Last, but not least, Aurorae's microfiber beach towel. I'm really excited summer has begun because I have the perfect go-to towel, Friends! This towel is over-sized, which means it will fit across the entire surface of the lounger at the pool. I am a huge fan of this Tahiti Tides tie-dye print, but if you'd rather, they have several lovely solid shades to choose from. The towel is made of microfiber which allows it to be super absorbent, lightweight, compact to fold and quick-drying…perfect for summertime fun!
I can't wait to use these again and again, fellow FIT BFFs, and I will because with the durability and sound construction of these items, I have no doubt they will be with me for a long time! Check out where I plan to practice this summer…could there be a more perfect place?!?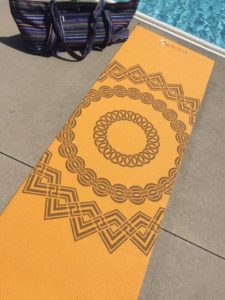 Stop by Aurorae's website to check out their full line of intriguing products, from aromatherapy and meditation accessories to yoga apparel, footwear, accessories and beyond.

Aurorae is a family business that truly believes in what they do. The satisfaction of their customers is 100% guaranteed! Many tips and videos are available right there on their website to assure your confident use and care of their products. Another aspect of this company I truly embrace is that they partner with charitable organizations throughout the United States and the world to bring the love of yoga to those who would otherwise go without. They believe that love and yoga illuminate your life, and is a practice everyone should be able to participate in.
FIT BFFs, now you know why I was so excited about that box sitting outside my front door! And, if you know anything about this blog, you know I love to share great products with my readers. Aurorae has graciously agreed to a lucky reader giveaway you can look forward to later this month…stay tuned!
As Aurorae says, "May the long time sun shine upon you, All love surround you, And the pure light within you…Guide your way on –Namaste"