Hello, fellow FIT BFFs! I've been at it again, living life to the fullest! Although I've been slowed by injury, I'm still full of gratitude for the awesomeness that continues to surround me.  My torn meniscus has caused me to take a marathon training detour.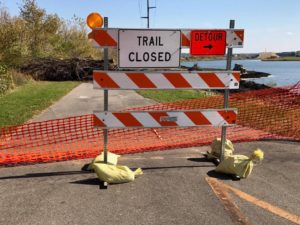 Perhaps this was my body's way of insisting on some much needed rest. I've spent the past few weeks icing, biking, icing, swimming, icing, resting and at multiple Active PT appointments getting cozy with a laser!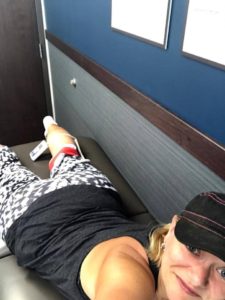 I've been intrigued by all I've learned during this detour, grateful for knowledgeable care and healing. I had a trip scheduled for San Diego last weekend that I wasn't sure about. It was an opportunity to put in another 20 mile training run before the Marine Corps Marathon. I knew there was no running happening for me, yet I went anyway for some soulful rehab. It gave me a chance to catch up with these two…
You see, a year ago I reached out to a perfect stranger at the time, Rhonda. I offered to run her first marathon with her in Honolulu. It was my first too. I jumped clear out of my comfort zone in doing so. But what was the worst thing that could happen? She could've said no. But she didn't…this amazing woman said YES! I met her friend Matt in Hawaii too, and what resulted from meeting these two continues to blow my mind!
Last Friday, those two took off for a run while I savored a slow, gimpy stroll along the edge of Mission Bay. Now how could anyone feel bad about walking here?!?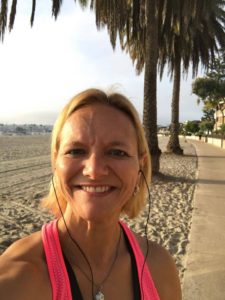 Those slow couple of miles were huge in restoration! That walk also helped me remain calm about another fantastic opportunity that was about to occur.
Last month I happened upon a documentary on Netflix that hit me straight in the feels. You can read more about it here. I felt as if I could have easily been one of the twelve in the film, From Fat to Finish Line, as my story was similar. I couldn't stop thinking about that movie and those kindred spirits who bared their emotions to the world. One in particular, John, really caught my attention. Upon watching it again, following my injury, I knew it was more than coincidence that he lives in San Diego. As I packed for my weekend, my heart wouldn't leave me along. So there I went again, leaping clear out of my comfort zone in contacting him to meet up.
Again, what's the worst that could happen here? Of course he could say no. But he didnt! And I found myself in last year's familiar territory as I met up with another extraordinary person I admired for sharing their story! Quick, someone, pinch me!
Although John was running the Long Beach Marathon the following morning, he generously agreed to meet and walk. At 5 am!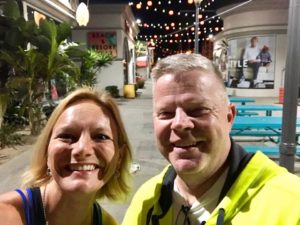 Two miles went way too fast as we shared bits and pieces of our stories with one another. At that moment, I felt as though my injury happened so I could share this amazing moment. EVERYTHING happens for a reason, right?!? John, a million thanks for just saying YES!
Our brief meeting sent my heart soaring for the rest of the day and beyond. But of course the remainder of the morning contributed to that too. Because the rest of my 8 mile walk looked like this!
While Matt and Jackie finished their 20 miler, I couldn't be more thankful they still hope to run the Marine Corps Marathon with me in a few short weeks.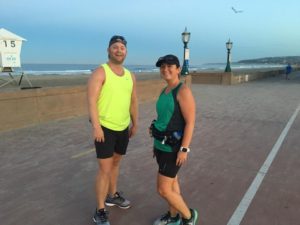 That's why I intend to behave my butt off in regard to healing; I will do everything I can to get to that starting line!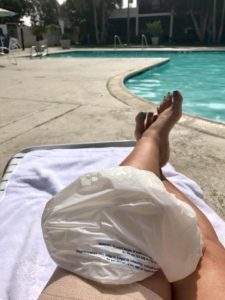 So for now it's more ice ice, baby while I listen to my new favorite song We Believe! Speaking of which…it's hard to believe this wonderful life is mine!