It has been a fantastic day of multi-tasking, and I'm so excited about that, Friends. I finished something I've been working all year to complete! My 2016 goal of a half marathon each month was realized today in a unique and heartwarming manner. Yesterday I told you how I intended to fit in those last 13.1 miles here at home. With several participants along for the walk, it was a blast!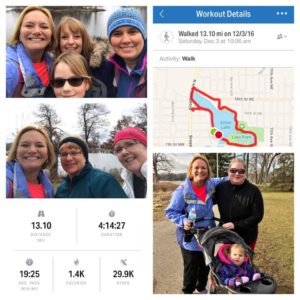 I walked 7.2777778 laps around Silver Lake with great company. As a few friends finished a lap or two, others arrived. I was thankful to have someone with me for each and every mile from beginning to end. Their presence really warmed my heart on this 30 degree day!
We shared wonderful conversations and bounced some ideas around for a new challenge or two for 2017…something I've been trying to figure out for weeks; but you'll have to wait to hear about that.
So remember the part about multi-tasking? Not only did I finish my 2016 goal, I continued to chip away at my Facebook Friends Resolution…you know the one, to do something fit/active with each of my Facebook friends. I'm happy to report I marked Sherri and Marisa off my list. Thanks for your willingness to join me, Ladies!
But the awesomeness didn't end there, fellow FIT BFFs! I was also able to record today's activity on my December challenge…the Advent Calendar of Activity!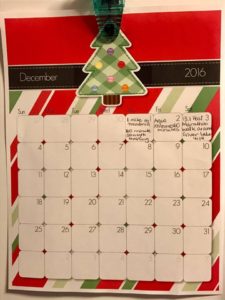 If you haven't joined in on the fun this little calendar provides, stop by here to read about the challenge and print off your own little gift of motivation right now! It's never to late to get with it…start today!
It feels great to have achieved my goal, but I must admit, I am tired. I plan to retire to the couch tonight. But I won't plan to get too comfortable, because tomorrow is another opportunity to be consistent…one more way to put my Best Foot Forward!