Snowy greetings, fellow FIT BFFs! I'm back home in Minnesota today after a whirlwind weekend working on my Facebook Friends Resolution…you know the one, to do something fit/active with each of my Facebook friends. This adventure began to take shape back in July when I messaged my friend Jill to see when she'd be in town. Her response thrilled me. She said she'd actually considered my resolution and thought I'd enjoy coming to Jacksonville to walk the Donna's half-marathon to finish breast cancer. Here's the kicker…she would fly me out with her miles and I could stay with her. That was a generous offer I simply couldn't refuse.
And this just kept getting better, because not only would I mark Jill off, but her sisters Julie and (my childhood playmate) Beth too. In the process, I met Jill's friend Kris, became Facebook friends with her and marked a total of FOUR off my resolution! But that was not the best part. This weekend was a gift that continuously kept giving! Here's a peek into our extraordinary time together.
Julie and I roamed to Jacksonville Beach Friday morning to catch a breathtaking sunrise. A soulful stroll on the beach was a most beautiful opportunity to soak up some coffee and sunshine.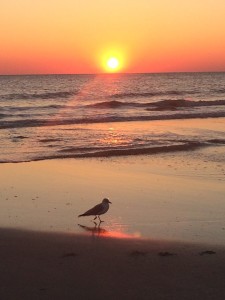 Soon we were off to the 26.2 with Donna The National Marathon to Finish Breast Cancer race expo. This was an impressive expo with a wide range of clothing, gear, inpirational novelties, medical/health organizations, (as Mayo Clinic is one of the race's partners) and this guy (also a race partner)…running guru, Jeff Galloway!!!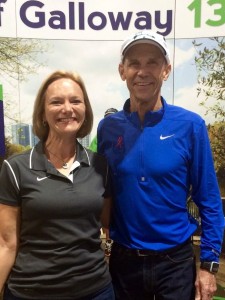 This was my second opportunity to meet up with Jeff at an expo. And here's a little secret…with all the running this man does, hugging him is like embracing concrete…he's SOLID muscle! I'm so in awe of him; I've easily been inspired to continue with that quick squeeze!
Our team had a great time exploring everything the expo had to offer. The photo booths were fun, and the mimosa I had at lunch may have contributed to this impromtu shot…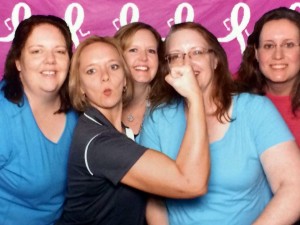 We picked up our race packets, made some purchases and were more than prepared for the event!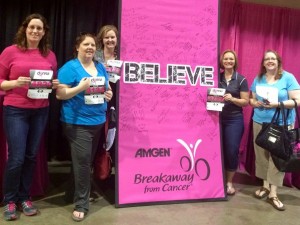 Now all we had to do was sit back and relax until Sunday, so we made great use of our time, like a shopping adventure that led me to one of the most enchanting, uplifting stores I've ever experienced…Natural Life.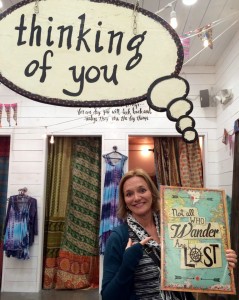 Then there was this little souvenir of an activity with some of Jill's great friends…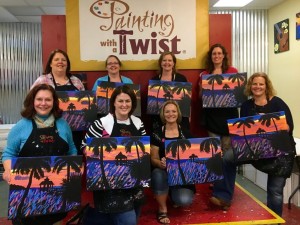 And finally some pre-race pampering prep…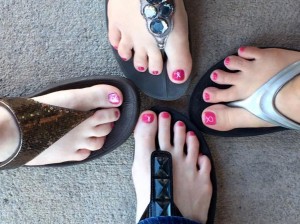 We were completely race ready! And that's great because Sunday morning rolled around quick, as we rolled out of bed at 4 am to reach the start!
Now you'd think that a race in sunny Florida would be a warm kind of thing… but waiting for it to begin, we were mighty thankful to huddle around one of many heaters!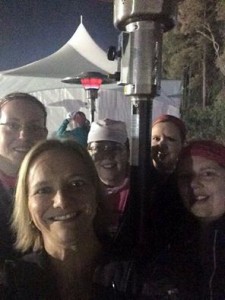 Before we knew it, it was time to begin. We followed thousands of people through the chute to the start line for our half-marathon together. What a surreal experience to have come all this way to be together. I was especially excited to know this was Beth's first half, and she owned it! We enjoyed every step of the way together. The spectators/cheerleaders were fantastic; they really added something special throughout the route…like this Bud handing out beers to enhance the festivities!
Or this very encouraging, boob-loving ape!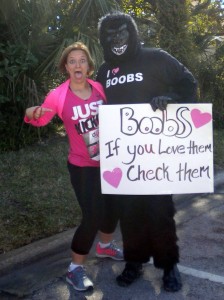 Even a stop at one of the many first aid tents provided comical relief…introducing the Blister Sisters!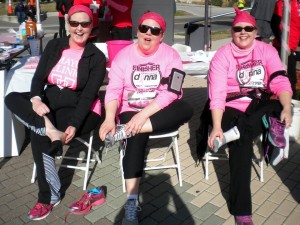 It was unbelievable how quickly 13.1 miles flew by as we talked, laughed, hydrated, talked, took port-a-potty stops, laughed, fueled, hydrated, talked, laughed. Eventually, the finish line came into view and soon we accomplished what we had set out to do! Together, we helped finish breast cancer, put in a terrific workout, got fully caught-up with each other's lives and put an amazing half-marathon behind us!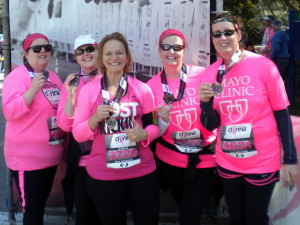 Through Jill's generosity and hospitality, I was able to mark four more friends off my resolution in fabulous, Floridian style! Thanks, ladies for the best weekend a gal could hope for!!!