Friends, I've been playing around with Buddha bowls and various salad recipes all summer.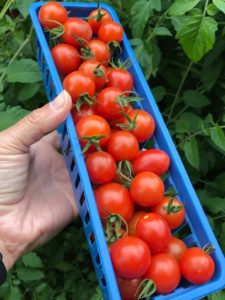 Now, with the bounty of cherry tomatoes in my garden kicked into high gear, I've had ample opportunity to craft the pinnacle recipe. This salad is bursting with freshness; the flavors vary from one bite to the next, but each is equally refreshing. I hope you enjoy it as much as I do!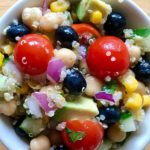 Buddha Garden Salad
Ingredients
1/4

cup

dried quinoa, prepared

1/2

cup

water

1

cup

blueberries

1

cup

cherry tomatoes, halved

1

cup

sweet corn kernels

1

cup

cucumber, chopped

1

15 oz can

garbanzo beans, drained

1

clove

garlic, minced

2

tbsp

red onion, diced

2

tbsp

cilantro, chopped

2

limes, juiced

1

medium

avocado, diced
Instructions
Combine quinoa and water in a small sauce pan, prepare according to package directions.

In large bowl, combine blueberries, cherry tomatoes, corn, cucumber, garbanzo beans, garlic, onion, cilantro and lime juice. Add cooked quinoa and mix.

Salad can be refrigerated at this point until served; mix in avocado just before serving.
Recipe Notes
Nutrition Info...
Calories: 147 per 1 cup serving
Fat: 4.4g. Fiber: 5.8g. Protein: 5g. Carbs: 25g. Sodium: 66.1mg.