Happy National Trail Mix Day, FIT BFFs! Quick history lesson…you might find it interesting to know that the concept of trail mix has been around for thousands of years. Although it wasn't called trail mix back then, ancient hunter-gatherer tribes made use of mixing meats, nuts, dried berries and fruits together. Because they were nomadic tribes, traveling from place to place, they needed a simple food that didn't require cooking. The bonus was that it was high in energy to help keep them moving.
These days we use that same idea for hiking and other outdoor activities for the very same reasons…a simple grab-and-go snack that provides a boost of energy!
So in observance of Trail Mix Day, I thought I'd throw together a quick snack. I enlisted the help of my 13 year-old son for the "fun" of it. What he doesn't realize, I just taught him how to add up calories, then divide to find the calorie count per serving…LOVE IT!
The beauty of trail mix…you decide what to include to tailor-make it to your taste and nutritional desire. Here's what we made: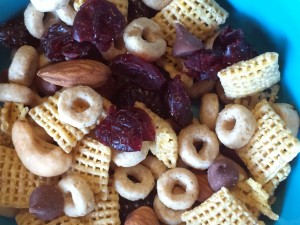 Happy Trails Mix
Ingredients:
1/4 cup cashews
1/4 cup dried cranberries
1/4 cup raisins
1 oz almonds
1 cup Honey Nut Cheerios
1 cup Corn Chex
30 g chocolate chips…hey, don't judge!
Directions:
Mix all ingredients together in medium bowl. Measure out 1/2 cup servings. Place in snack-sized zip-seal bags for a quick convenience snack! Makes 6 servings at 160 calories per serving.
Popular twist:
By suggestion of my teenage son, we added one of his favorite ingredients to make this what we called Even Happier Trails Mix!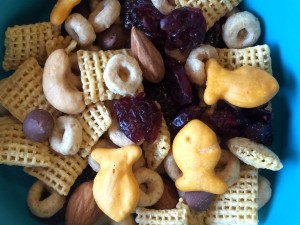 Note: adding 30 grams of Goldfish crackers adds another 140 calories to the entire mix, making a total of approximately 7 servings, actually bringing the calorie count down to 157 calories per serving! Bagging it up makes this a great travel snack. I'm going to throw a bunch of this together for our Labor Day Weekend activies and you can too! Just one more way to put our Best Foot Forward!