Friends, I'm traveling to Jacksonville, Florida this evening on a mission…
Two years ago this weekend, I came together with some childhood friends to participate in a half marathon among other things. It was a great opportunity to catch up with one another and we had plenty of time to do that because we walked every last step of that 13.1 miles together.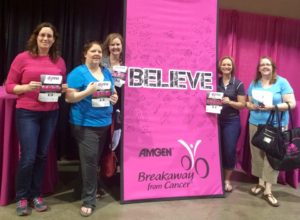 This was a great event right there on the streets along beautiful Jacksonville Beach. The weekend was created in 2008 by a three-time breast cancer survivor, Donna. It has become the wildly popular and successful annual Donna Marathon Weekend to FINISH breast cancer.
Back in 2016, I'll be honest, I wasn't really there to support breast cancer, I was there to share a good time with friends…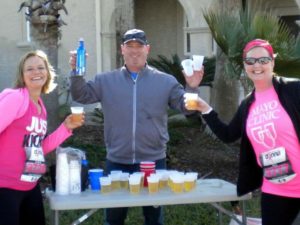 As we worked our way along the course, there was a party on every corner! There were lots of posters with boobie humor, and many spectators came dressed for the occasion…like this boob-loving ape!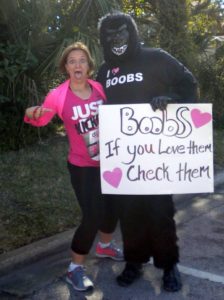 It was easy for someone like me who was not personally touched by breast cancer to miss the point; I simply viewed the finish line as a fun accomplishment…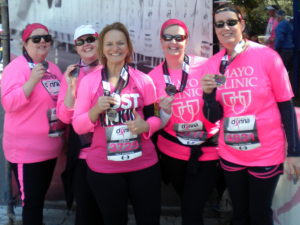 But for some reason, my attitude changed. As I looked through the photos from that weekend, they spoke to me…especially the one with the ape. It suddenly occurred to me, I was LONG overdue for a mammogram. And I'm sure glad it did, because as soon as I returned from Jacksonville, I scheduled an appointment.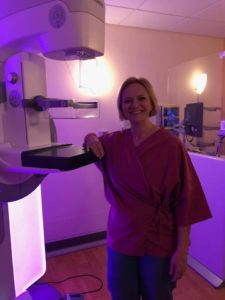 When one mammogram became another, then an ultrasound, and a biopsy, I slowly began to gain a wider understanding of what that weekend was all about. I was really lucky, though, Friends, my biopsy came back benign. But because the tumor was precancerous, my team wanted that thing out…and that's when it started getting very real for me. A lumpectomy was my next hurdle.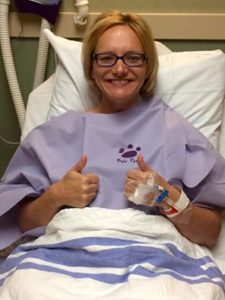 I'd been working with a health coach prior to (and during) all of this, and I was in a really good place. Rather than fearing the worst throughout the process, I kept my thoughts in check. I kept reassuring myself, and everyone worried for me, that this was nothing until it was something. And at that point, it was still nothing.
Again, Friends, I was very lucky. Blessed, rather. My post-op pathology also came back clean. AMEN!
You'd better believe I made my annual appointment the very moment I could for the following year, where something else turned up, but was much less than last year.
This was all fresh on my mind as I decided to do Donna's half again this year, as I registered for the event months back, and as I packed this morning. So much so, I called radiology to schedule my appointment for this year before I left for the airport. I'm not due to go back until May, but you'd better believe I will be there and every year from now on!
I look forward to this weekend. I've learned my lesson and I know this half will be less about the laughs and ALL about the gratitude!