I know this picture is about to gross many of you out, fellow FIT BFFs. Sorry for a less-than-delicious looking pic, but hear me out…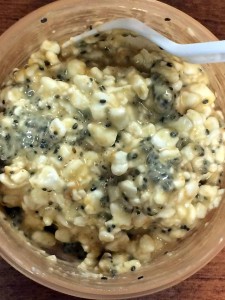 I've been exploring combinations of cottage cheese with various other items to produce a filling, power boosting recovery snack. Although its presentation is less than appetizing, I'm still calling this one a winner!
Chia PB2 Boost
Ingredients:
1/2 cup low-fat cottage cheese
2 tbsp PB2 powdered peanut butter
1 tbsp chia seeds
Directions:
Combine ingredients, mix well, refrigerate one hour or more before eating.
Makes one serving at 175 calories