Friends, you may not know it, but May is Healthy Vision Month. Today I am blogging for the American Macular Degeneration Foundation…the AMDF to spread awareness.
According to the AMDF, macular degeneration is the leading cause of legal blindness in people over 55 in the Western world…it affects more than 10 million Americans. Someone I love has been diagnosed with macular degeneration, and it scares me! So that is why I feel compelled to share with you a simple way to help protect your vision.
The AMDF has put together a cookbook Eat Right for Your Sight that features 83 easy, delicious recipes that feature nutrient rich ingredients that foster eye health. So I thought I'd quick whip up one of their recipes this morning to encourage you all to eat right for your sight.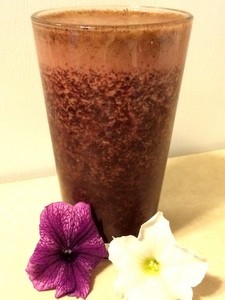 Banana Blueberry Pomegranate Smoothie
1 ripe banana
2 kale leaves, stems removed
1 cup blueberries
2 cups pomegranate juice
1 tablespoon freshly squeezed lime juice
I tossed in a couple ice cubes to thicken without chilling
Combine all ingredients in a blender (I used my Nutri Bullet) and puree until smooth, about 45-60 seconds. Chill briefly if desired.
This recipe makes 2-2 cup servings at 262 calories each with 4 grams of protein, 5 grams of fiber and 1 gram of fat. This was a fantastic, tasty way for my husband and I to start our day.
Today I am eating right for my sight and you can too! It's just one more way we can all put our best foot forward!