I've had a tough time observing Father's Day since my dad died 5 1/2 years ago. Grief subsides and the hurt fades, replaced with sweet memories. But every year it returns, fresher than ever. Today I thought I'd allow myself time to remember, process…take a moment to share what's been happening.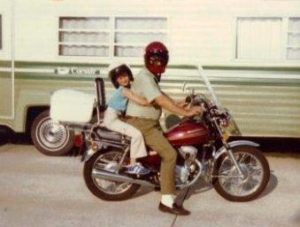 I was unmistakably Daddy's little girl. I followed him around like a shadow. He took me everywhere he went. And at the end of his workday, I'd meet him at his city bus stop where we'd walk home hand in hand. As years passed, he led me down the aisle and placed my hand in Eric's. But he wasn't ever far when I needed him.
If you never had the opportunity to meet Lotus Conrad, you should know he always had an arsenal of jokes at the ready, a trickster and gifted storyteller who loved to make others laugh. Sure, he experienced his share of obstacles and heartache in life, but he relied on his witty sense of humor to smooth out the rough edges. He employed this talent right up until his last night. And because we were two peas in a pod, where else would I be?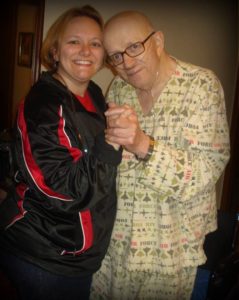 Friends, I never thought I'd be someone to experience what I'm about to share; and not for a second did I think I'd ever feel comfortable sharing it with others, because some folks may label me any number of things…but it doesn't matter. See, it didn't take long after his death for me to realize, he was far from gone.
In life, I followed him, but now he follows me. He's the blue jay or cardinal that flies alongside me on a bike ride, the limitless contrails when I look up for guidance. We have this strong flight/plane connection as he was in the Air Force…see his pj's in the photo above? I made those for him.
He's the cookies that introduced themselves when my mom was having a rough flight to Hawaii, and now pop up on every flight I take.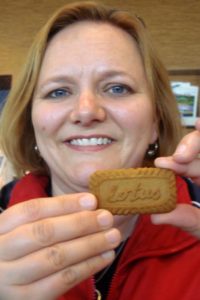 He follows me in ways I can not explain, like my second trip to Hawaii. Multiple miracles occurred for me to be there to run my first marathon. I don't even know how I got there, but am assured it was him pushing me across the finish line. As I walked in the door to our condo on Waikiki, it all made sense.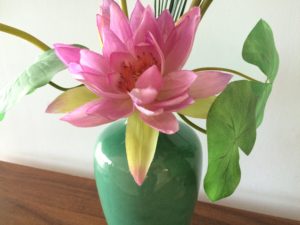 Together, we used to watch Lefty Gardner YouTube videos of P-38s. Now I catch the clock saying 7:27, 7:37, 7:47, etc…all planes. If you don't believe me, ask my husband…I see those times everywhere, those numbers on license plates, road signs, the sides of semis, my breakfast total at the airport!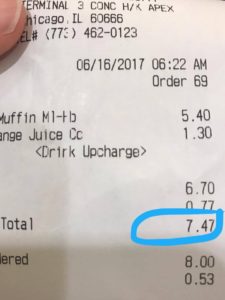 Speaking of airports, as my friends awaited their departure from a vacation we shared, they sent me a birthday greeting text with a photo. Little did they know, he was sending his wishes too…see the bald guy in the gray sweats and loose wristwatch, yeah, that's him…don't know how, but he photobombed!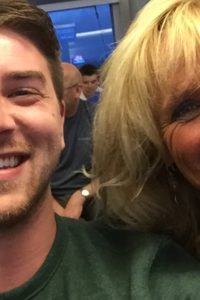 Lately I've been in the sky A LOT and many of those trips have had his hame written all over them again and again.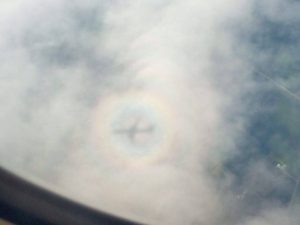 How extraordinary to glance out the window to see our plane's shadow encircled in what I choose to believe is my orb of protection!
I feel that protection everywhere I go. It has even saved my life in a nasty car accident. Always looking out for me, he's the sticker on a trailhead post I spotted after hiking in Zion; I know he was there, keeping me from plummeting to my death on those narrow ledges!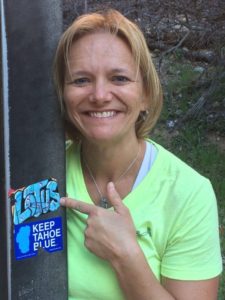 I could go on and on, but you get the idea. Friends, I'm not just imagining these little signs and messages…my imagination is simply not that creative!
I receive these spontaneous little gifts constantly and they leave me stunned, intrigued, sometimes breathless, but always loved. I'm thankful for each one and hope they never stop…we're connected forever!
Grief is rough, especially today. Those of you missing your dads, I'm so sorry for you enormous loss. Hopefully you've experienced some similar events; if you haven't, keep your eyes and ears open…they are right there by your side!
Happy Father's Day!