I nervously wrote my first blog post three years ago. I had no idea what people would think of my frequent doses of humor, sarcasm and (hopefully) useful information as I apprehensively hit publish. I wasn't sure people would take me seriously in my pursuit to live and share my healthy lifestyle. I wasn't a professional anything, simply a gal on a journey to improve her health and pass on what she learned along the way.
See, my goal in blogging was to inspire others who may have considered adopting a healthier lifestyle, to encourage them in knowing if I could do it, anyone could. I aimed to share thoughts and ideas I experienced so others might feel less alone. I realized many of my posts may have lacked relavance to many, yet I felt led to put them out there anyway,  hoping my honesty touched someone struggling with similar issues. This blogging gig has always been my desire and intention to help others.
But friends, I never expected what FITBFFs would do for me, no idea what an accountability tool blogging would become. Remember, the vast majority of people who lose a significant amount of weight soon gain it back and more. I'm beyond five years from the beginning of my weight loss and I'm determined to never write that apology post to you, Readers. EVER!
Nowhere in my wildest dreams would I predict what else would happen as I shared a few photos of my progress, some helpful products, a new favorite food or recipe, a few strategies to stay motivated, etc. I never imagined the incredible people I would be introduced to, the generous companies I would partner with, the ideas it would place before me, and the places it would take me. This blogging adventure has turned out to be a most amazing blessing, a fountain of opportunity that continues to wash over me with surprise after remarkable surprise.
Not a day goes by without a kind message from one of my readers, or being approached in public, an email from someone reaching out seeking help to begin their own transformation, a company wishing to share their great products or services with you! One word sums up what all this means to me. Gratitude.
One more thing I'm grateful for, Friends…I've learned how to have my cake and eat it too on this Blogiversary!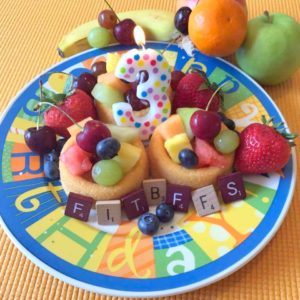 Thanks for reading, fellow FIT BFFs; let's keep putting our Best Foot Forward!