Friends, it took me a few days to process the closure which occured this week. The words were not readily available, and they continue to escape me. But I want to attempt to share the best I can. My 4 1/2 year stint with a dietician, health coach and trainers has drawn to a close. I was astounded at the multitude of memories and emotions that bubbled up surrounding my final training session, weigh-in and coaching appointments. Profound Gratitude, Friends!
I remember the broken woman I was when I first met each of these life-changers. When I take time to reflect on that time in my life, I'm inevitably and instantly in tears. I was absent back then, in a deep dark hole of despair. I was (246 pounds) morbidly obese, aimlessly suffering the loss of a loved one, medicated for high blood pressure and feeling out of touch with everything and everyone. Lost.
But now, when I look back at the infinite things each of these people taught me, tools they provided, confidence they instilled, patience, heart and soul they shared…I'm simply blown away at what a gift this experience was and is. And when an old tendancy attempts to creep in…worry, the fear of future failure, I shut that stuff down immediately because I'm no longer defined by a number or a diagnosis. I am strong, healthy, empowered, loved, determined, inspired, dedicated, focused, centered, healed and whole. Found.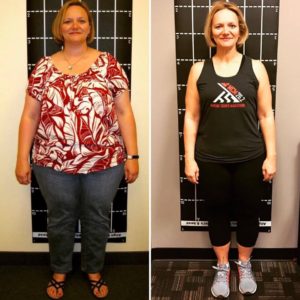 I hesitate to call this my before/after because it's not. It's simply then and now; not at all the end, rather, Just the Beginning of anything I dare to dream!