Happy Monday morning, fellow FIT BFFs.  Remember when I told you I buy a couple new items to try each time I go grocery shopping?  I continued that habit this weekend and I'm so glad I did!  A few weeks back, my wise and wonderful dietitian recommended a tea she enjoys as a no-cal treat.  Well who wouldn't want to try that?!?
As I searched for it at the market, I was amazed at how large the tea section had become.  I had no idea there were so many flavors and varieties!  I think I may have stumbled onto my next new love.  I restrained myself and only selected the Cinnamon Apple Spice herbal tea from Celestial Seasonings, but I could've easily loaded my basket with all the flavors I'd like to try…all in good time.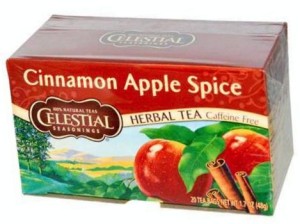 So I had to try it the minute I got home, and what a TREAT!  This is going to be my next go-to when I feel hunger coming on.  This tea has great flavor and is a feel-good kind of guilt-free indulgence.  It's like a hug in my mug!  I also like that this makes a nice winter warmer-upper without the caffeine.
Think of how dull and boring eating and drinking would be if we never tried anything new. Talking with others about foods/drinks is a great way to find your next new favorites.  If you haven't already, promise yourself you'll try a couple new things next time you find yourself at the store.  Why not make one of those items a soothing, stress-reducing, relaxing box of tea? And for a few bucks a box, that's a valuable item!
Have you tried anything new lately that you think we'd like to hear about?  Or do you have an amazing food/drink item that has made staying on track more enjoyable?  We'd love to know…drop us a comment!
I'm popping this tea in my bag and bringing the joy to work with me this morning.  I can't think of a better way to enjoy a Monday morning on the job…just one more way I'm putting my best foot forward!