I've had a decent couple of weeks weight-wise.  Mondays are my "face the music" days on the scale; I'm currently weighing-in every two weeks with my dietitian.  I was down nearly two pounds this morning and after doing this for 2+ years, that's something to celebrate!
To keep myself focused, I have set a short-term goal for my next weigh-in.  I WILL lose two pounds in the next two weeks!  I have some incentives hinging on this success and I plan to earn these rewards!  My plan?  I WILL strength-train at least twice each week for 60 minutes and I WILL shoot for at least 200 minutes of weekly cardio.  Because I have been stressed out, I am going to get myself to yoga class at least once each week. There…a goal, a plan, now to CRUSH it!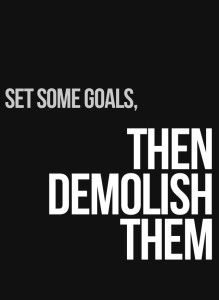 Monday is a great day to put your best foot forward.  Take a  look at your new week, set some goals and go for them!!!