Friends, today is a pivotal day for me. I've recovered from riding Ragbrai over a week ago…420 miles throughout 7 days across the state of Iowa on my bicycle. I'm heading into my next challenge this evening. It seems so metaphorical…I'll tell you why in a moment. Tonight I will travel to Winona, Minnesota where I will sleep on the couch of a perfect stranger. The invitation, a wonderful gesture of a teammate I've yet to meet. I need to be there this evening because at the crack of 4:45 tomorrow morning we will be briefed on the rules, regulations and safety reminders of Reebok's Ragnar Great River Relay.

Together, with my team of 11 other runners called the Twisted Blisters (none of whom I've met), we will begin an epic run around the clock beginning in Winona and ending in Minneapolis. That's something like 200 miles divided among the 12 of us. When we are not running one of our 3 legs of the race each, we will be hanging out in two team vans ultimately headed toward the finish line.
Why would I do this? It began as one of my Facebook Friends Resolution activities with a woman I met in December, who unfortunately, will no longer be participating. I will miss you, Emily. But, fellow FIT BFFs, as you know…I will do anything once. And Ragnar seems like a challenge I should participate in at least once! So I will give it the best that I've got in this crazy Minnesota summer heat and humidity. It's all about fuel, hydration and will!
It seems quite fitting that I should embark on this challenge. I've come upon the end a chapter in my professional career today, and this event seems to be the symbolic turning of the page to the next. Although I don't have the details sorted out to share with you just yet, know that it seems to be a logical life purpose for me following my own total transformation with the help of so many…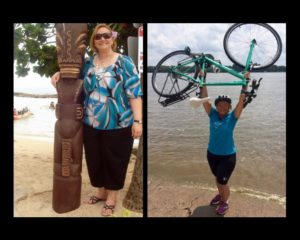 It's the next step for me in helping others attain their own wellbeing; I couldn't be more excited!
For now, I pack…three sets of clean running clothes, my running shoes and all the other necessities involved in running toward reaching my goals and chasing my dreams. If, I mean when, I finish Ragnar, I'll let you know how it went lol! In the meantime, keep an eye on my Facebook page FIT BFFs for updates. It's going to be one wild ride!