I know I've been really quiet lately, Friends; it's that time of year for me, I guess. Readers who have been with me for a while know I've been struggling for the past six years coming to terms with my dad's death. Each year as October rolls around, although another year has passed, I find myself feeling that same familiar sting.
Remember, I was very much Daddy's little girl, his continuous shadow here on earth until his very last night.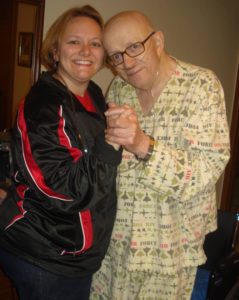 I've been spinning my wheels…in a holding pattern unable to move forward for a while now. So, recently, I did some tough work with my health coach. It was sort of disguised as a weight loss sort of session, but this woman is so gifted at peeling away the layers, tearing clear down to the heart of the matter so effortlessly. I've been working with her for the past 5 1/2 years throughout my weight loss journey and beyond.
Much of my struggle keeps coming back to grief and loss. So we did some pretty intense work on it recently. I'm finally coming to terms with the belief that although I grieve for what I lost, I know that a greater good will follow.
Thankfully, my husband and I have been involved in a challenge Walktober through his employer's wellness program. It is a simple step challenge from Oct 2-Nov 12. I'm grateful I had a goal for this time of year, something to calm my October inner storm. Here's what happened with that…
I put out an all call for walking buddies and grabbed this bull of a challenge by the horns. Here's a little proof of the consistency a goal/challenge can afford. I got the job done EVERY SINGLE DAY.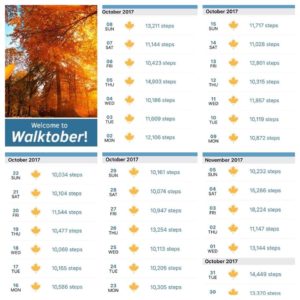 It really helped to have company, gave me someone to catch up with, someone else to think about. Because on the days I was alone, it felt a whole bunch more somber, like this…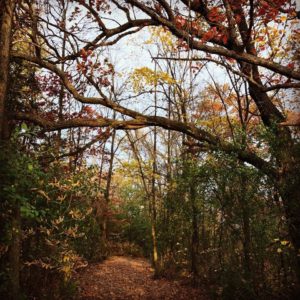 So I continued turning over that notion of a greater good following this immense loss I've experienced. And I know that can mean a million different things. But something happened, something so unexpected, something far too coincidental to be random, which made that idea crystal clear in my mind.
On the anniversary of my dad's death a few weeks back, one of my dearest friends lost her mom. And on the anniversary of my dad's funeral, we came together in Omaha to celebrate her life. The morning of her funeral I took some time to continue work on my step challenge in a most profound way.  The reality of what happened began to sink in.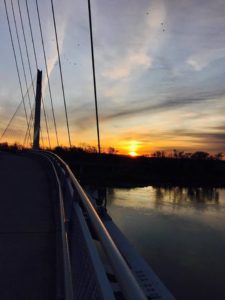 I was simply astonished. Leave it to God to do something so unique, so healing through someone else's loss.
This friend has walked supportively beside me throughout my journey (even on this challenge!!!), and I've been blessed with the opportunity to do the same while observing those tough dates together from now on. Something I think I may have needed but didn't realize. A greater good?!? Well, maybe that's not exactly what my health coach meant, but I can't ignore a sign of this magnitude.
Just as in years past, as October turns to November and the focus shifts, the lump in my throat loosens, the tenseness melts away and I can breathe deeply once again.
I'm so glad I had a challenge to keep me moving forward. I have four more days to go…who wants to walk?
I must admit, with all those miles behind me, I can hardly wait to do anything other than walking!