Friends, if you don't already know, I'm an eternal optimist! Though life can be terribly confusing and mysterious at times, I do my best to find the bright side in every situation because everything happens for a reason. Sometimes a person has to be patient for all the pieces to come together to make sense, and boy, can it be intense when it does!
I've had an experience this past month that is just too phenomenal to keep to myself…my a-ha came today and it blew my mind!
Nearly a month ago, I realized the diamond from my wedding ring of 22 years had vanished. Instead of freaking out, as I would have before my weight-loss journey, I was surprisingly calm. The old me would likely have cried, puked, feverishly searched and stressed through a sleepless night over the lost stone. This was a true test for the new me I'd worked so hard to become.
I simply breathed while considering how many places the diamond could have disappeared throughout my day of errands…it could have been anywhere inside any number of stores, or outdoors where everything was covered in crunchy snow. Of course, I looked around the house, but I wasn't willing to make myself sick over it. The truth of the matter, that thing could be anywhere, and a trillion times tougher than finding a needle in a haystack!
I had to admit, I was surprised, myself, how at peace I was. A ring was just a symbol of something much greater, and if Eric wasn't upset, why should I be? I kept remembering how, toward the end of my weight-loss, the ring had become so loose on my finger, I was afraid I might lose it. How ironic the stone turned up missing instead.
A wise friend suggested the stone disappeared because it was from our old relationship. And just as I've transformed, so too had my relationship with Eric. It was time to replace it with a renewal to our commitment. I LOVED that beautiful sentiment; it had me in tears (the good kind). 
I set the empty ring aside and didn't think much more about it except when I glanced at it every now and then. I know this is going to sound kind of crazy, but I had the calmest feeling, like everything was going to resolve itself. But how?
Nearly two weeks later, I spotted something shiny on the carpet mere inches from a furnace vent. Yup, found it! It seemed miraculous that it turned up, yet I wasn't at all surprised because, you know…everything happens for a reason, right? Only what the heck was it?
I was thrilled to have the same stone back. Eric and I both decided it was still a symbol of our love, whether old or transformed. I missed having that ring on my finger and was excited to know it would be back on there soon!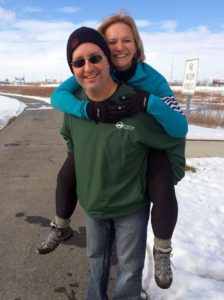 So far, I bet you're wondering what's the point of my story. Well, I was thinking the same thing…why did this happen. I wasn't able to pinpoint that one yet.
This week has been rough. It marked three years since our car accident. I also had my final training session for my weight-loss program and I was unraveling. Why? I'd been successful throughout those 4 1/2 years. I'd worked through an immense amount of baggage and habits. I'd been given every tool imaginable to be successful. But the safety net had been cut away and that made me nervous. I spent the week on the verge of tears.
Thankfully, another wise friend sent me some magically timed words, "It is a new beginning. Not an ending…You my dear, the Queen of finding signs and meaning with everything in life, this is a sign that you are ready to go and make your way with the skills you have been provided."
Of course she was right!
Friends, it's about to get so good…stay with me! I took the ring to be repaired today and the jewelers marveled at how amazing it was to have found the diamond. Apparently, it was a miracle, but an even better thing happened next! I mentioned the irony of having lost the stone rather than the ring because it is so loose. The ladies pulled out the sizing guide and I'm convinced this whole thing happened so I'd feel victory in decreasing that ring when I truly needed a win!
One of the women mentioned that she had been on a weight-loss journey too and when we shared a bit more of our stories and I showed her my before pic…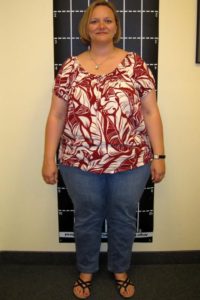 she came clear around the counter and hugged me. She thanked me for inspiring her! But what she doesn't know is that in their encouraging me to resize the ring, I've just found the accountability piece I so desperately needed…my new safety net!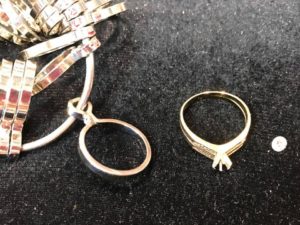 It gave me chills thinking how this wedding ring was a symbol of our marriage vows, and with this diamond escapade, has become a further commitment…the additional promise I needed to make to myself this week…to both of us, really. With this ring, I thee WELL!
Friends, this one ended far better than I could have ever imagined, my all-time greatest NSV all thanks to the guy who's always beside me and the Guy upstairs!