Fellow FIT BFFs, often we don't see the extraordinary blessings headed our way. Rather we doubt they are possible, or can't imagine nor comprehend them happening.
Warning: This is one of those LONG ones!
Once upon a time…back in April, my friend Kris gifted me one heck of a challenge for my birthday…one I wasn't quite sure what to think of…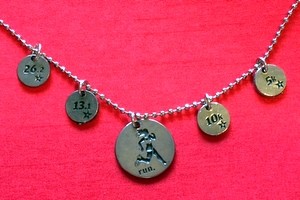 It was a genius gift, really, with motivational strings attached, that went like this:
I could only wear the charms I earned
I must earn them in order
I had one year from my birthday to complete this challenge
I couldn't decide whether this gift was a blessing or curse! I had previously only run no more than five miles and frankly, distance terrified me. Some of you may also recall I was only a year out from a car accident that left me with multiple fractures, sprains, strains and contusions. An experience that instilled fear of re-injury, yet ignited something within that refused to be extinguished…my comeback!
My mind was in constant turmoil over accepting and possibly accomplishing this challenge. I couldn't turn it off in my head…should I do this? Why would I want to do this? Why wouldn't I want to do this. I know I can do part of it. Could I really take it all the way? Note: I NEVER imagined in a million years I would ever run a marathon before I receieved this gift!
I kicked off this crazy challenge that same month with my friend Rhendy, running the Unleash the SHE 5K…DONE!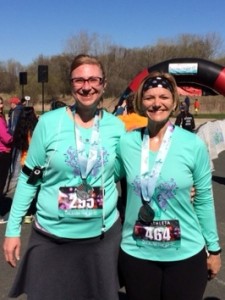 It felt great to be on the board as I placed the first charm on my necklace. The next had me apprehensive, but I knew it could be done. So I registered for my first 10K, the SOS or Stay Out of the Sun Run. And mid-May, although I had trained, it took everything I had to run the entire distance. But with the support and encouragement of my dietitian Branda and trainer Kasi, how could I fail?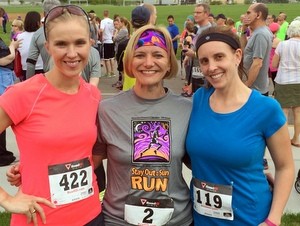 Boom! Another charm on the necklace, but now this is where things got scary for me. I just ran 6.2 miles and I dug as deep as I could to get it done. How could I possibly run farther?
When my trainer and a new friend, Andrej (from a company that shows interest in my journey and is generously encouraging me to succeed with their cool app) propose a new challenge, do I have a choice? Not so much! They coaxed me to set the insane goal of a half marathon. Me! The 43-year-old who'd recently lost 80 pounds. Who used to weigh 246 pounds!!! A lady who before this year hated running! Run a half marathon? I thought they were crazy. And I thought I was even crazier to consider it. But what if I could?
A funny thing happened; that necklace mocked my apprehension. Whatever had ignited after that accident went beast within and answered for me…before I could even reason with myself. Of course I would do it! And when we selected Chicago for the location, things got real! I continued strength training with Kasi, and later with Cody (when Kasi went on maternity leave). I completed 12 weeks of half-marathon training and at the end of September, supported and motivated by Maja and Andrej of 24alife, this happened…
Earned another charm! I didn't know what hit me. As I crossed the finish line of 13.1 miles, exhausted to the core, mind and soul…something ludicrous washed over me. For a while I believed it was merely endorphins and an overdose of oxygen to my brain, but something deep within craved MORE!
For some strange reason, instead of halting my training, I continued. I turned ideas over in my head for days after that. I'd looked at a few local fall marathons and even a winter one in Honolulu, but for various reasons talked myself out of all of them. Sure, Hawaii would be nice, but the money factor alone convinced me to forget it…I could NEVER afford that trip right now. So  I did forget about it. I thought this was where my necklace tale ended. I could still proudly wear it with only three charms, right?
When I should have felt accomplished, in all honesty I was a physical, mental, emotional, spiritual mess. My trainer Cody picked up on this and invited me to try a holistic healing session at his office, as he is also a certified Reiki practitioner.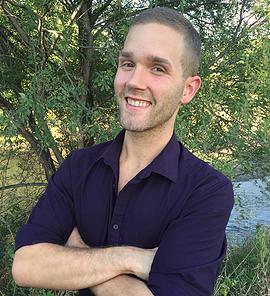 A one-hour treatment at his establishment A New Beginning in Rochester, MN calmed my nerves and subsided my anxiety. His intuitive nature beckoned me to declare my next race. Because I had set it all aside, I didn't have an answer. And when he persisted, I still had nothing. He urged me to keep alert, and that it would make itself known and it would be amazing.
And just the next day, October 23rd, I read a pivotal Facebook post by Rhonda Martin of Living Instead of Existing…a page I'd followed for a couple years, drawing inspiration from her astounding 277 pound weight loss journey. In this post she announced that although her friend Matt decided to run their first marathon at his own pace and she would be alone (26.2 miles is a long time to be alone), she decided, although worried and concerned, she was going to go ahead and run the Honolulu Marathon by herself.
The moment I read Honolulu Marathon, I replayed Cody's words in my head and without a moment's hesitation, knowing this was exactly THE race, I messaged Rhonda that I would run it with her. I was overcome with emotion, but knew this was kismet. My husband came home to his wife bawling like a baby. When I told him everything, he said I had to do it.
Although my heart knew this was meant to be, my mind could not wrap itself around what this all meant. I shared this experience over that weekend with my extended family on a Wisconsin Dells getaway. By Monday it had sunk in and Branda (not only dietitian but marathon runner/mentor) devised a seven-week abbreviated marathon training schedule which I immediately attacked.
As the weather turned colder, I feared the climate differences I would be up against, but I trained. My generous friends at 24alife agreed to sponsor my race registration. I used my Christmas money to book airfare for my husband Eric and me. And although none of it made sense, I continued to train.
My nerves were getting the best of me, so it was time for another Reiki session with Cody. He put me in a whole new focused, renewed calm. His intuitive gifts reminded me everything would work out and to be patient and let it all happen. Although the next weeks still didn't hold answers, I waited patiently, yet prayed like crazy. I made a few pilgramages to Our Lady of Guadalupe Shrine in La Crosse, WI. I burned my Saint Jude (patron saint of hopeless causes haha) candle nearly constantly. I wore my Saints Jude and Sebastian medals everywhere. I talked to my guardian angels and my dad multiple times each day. I had my dream condo favorited on the VRBO website but didn't book. I found it curious that it was booked for the entire year, except the 10 days we'd be in Honolulu. I just didn't have the money in place yet. I calmly reminded myself if it was meant to be, it would wait for me!
I watched for my next miracle. I knew it was coming. I had worked on the financial piece of it throughout this final chapter and I knew it would fall into place. And the day before we flew out, the blessing of a settlement check from our car accident found its way into our mailbox. That night I booked the condo that waited for us. We flew out the next morning. I was so involved in finishing last minute details, completing my spot-on training, planning meticulous nutrition, and looking forward to meeting Rhonda and her friend Matt, I had no time for marathon apprehension.
Meeting them at the race expo was a surreal experience. I was still stunned at how everything had worked out. When we met and walked through packet pick-up, I felt as though I was dreaming!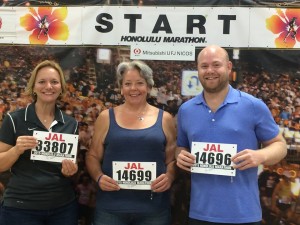 The rest is simply icing on the cake! Matt arranged to pick me up from my condo so we'd arrive at the start together amongst tens of thousands of other runners. We anxiously awaited the fireworks signaling the start…thus beginning one of the best days of my life!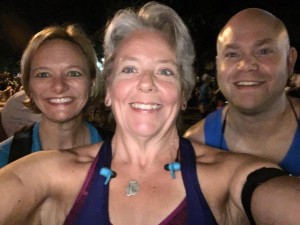 The miles all melted together, as Rhonda and I got to know one another and found our rhythm…walk/run intervals with some stretching every now and then. Gatorade/water stops were oases with coveted hoses, misters, and even sometimes ICE! There was free-flowing sweat and sometimes tears, but luckily no blood. The sun was strong and hot, but our resolve was steadfast. We were fulfilling our destinies!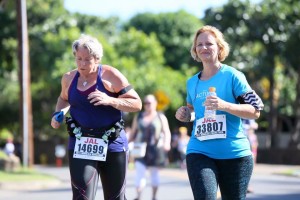 We were here to declare our transformations and prove to ourselves we could finish what we started. We spent nine hours and three minutes together on that route. I was running with THE Rhonda Martin, inspired beyond belief. And simultaneously, at the same age, through similar journeys and both on our first 26.2, in Honolulu, Hawaii, another miracle occured…we became MARATHONERS!!!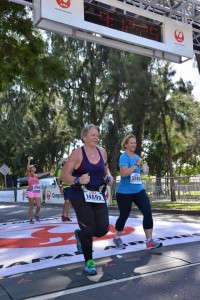 I've learned a few most important life lessons leading up to this moment of victory…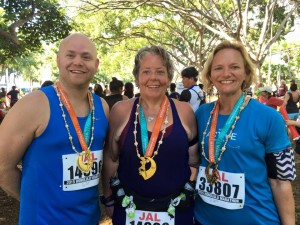 With one small change at a time and with focused perseverance, and the right amount of healing, one can certainly live Happily Ever After!
and
Never say NEVER!
And with that, I've just marked two more friends off my Facebook Friends Resolution…BOOM!
Psalm 26:2 "Test me, Lord, and try me, examine my heart and mind"
I have added the last charm to the best birthday present a girl could ever ask for…not just a necklace, but a fairy tale finish with four months to spare. Thanks to everyone who played a part in this story, I am forever grateful. Thanks, especially, to the ultimate gift-giver…Kris!