Happy March, fellow FIT BFFs! With a new month comes unlimited opportunity for focus, improvement and growth. If you've set any goals for this month, I'd love to hear about them…leave a comment below!
As I thought about what I wanted to accomplish this month, I realized it was quite a list, so I attempted to streamline it a bit to make it more realistic, more manageable. I took a few health/fitness, spiritual and housekeeping goals and rolled them into a bit of a multidiciplined approach for the month…here's what I mean.
Of course I want to continue to push myself physically this month to not only maintain but increase my strength and endurance. I'm committing to a trip to the gym daily in the month of March.
Incidentally, today begins the tradition of Lent in my faith life, it is a time of prayer, sacrifice and good works. I've been intrigued by a challenge posted on Facebook of donating a bag of items daily for the 40 day duration of Lent.
Quite coincidentally, I've noticed my house seems to be bursting at the seams and in need of an early spring spruce-up. Those who know me know I love simplicity…I'm not about the stuff at all, so the clutter is kind of suffocating. I recently ordered this…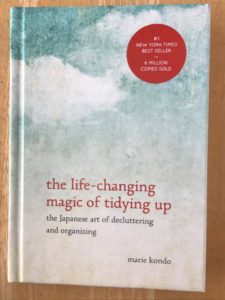 Although I'm only 34 pages in, I am ready to employ some of the strategies recommended to enjoy the breathing room decluttering would afford. I was taken by a quote by Kondo, "When we really delve into the reasons for why we can't let something go, there are only two: an attachment to the past or a fear for the future."
I LOVE that because, since I've become a champion for living in the present, I am both a fan of dropping the useless guilt of the past and the senseless worry of the future. It's the stuff that bogs me down, and it's time for it to go!
So here's where the integration of my goals is taking me this month. I plan to bag up a pile of unnecessary belongings every day, deposit them at the donation center of the nearby Goodwill and immediately proceed to my gym across the street for my daily workout.
I love the simplicity of this plan. Later each day, I will return home to sift and sort through another category of the house that deserves attention, providing further discards for the next day's bag. As space frees up, it will be easier to straighten those places, thus reaping the rewards of my three targets this month…exercising daily, giving to others and tidying/calming my home.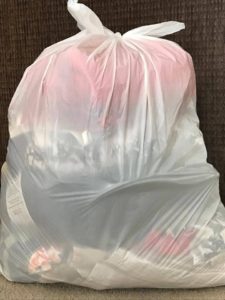 Here's today's bag of motivation, which means I'm also off to the gym! I can't wait to see what this process does to me this month. I'm excited about the propects and love this Kondo quote, "The question of what you want to own is actually the question of how you want to live your life."
I'm so done being weighed down and ready to let it all go…one more way to put my Best Foot Forward!