I was eager for my training session today…hopeful to finally put weight on the bar for my press. I've only recently started pressing the naked 45 pound bar and today was the day to increase. I admit, when I saw how small the weights were, my first instinct was to be embarrassed at how pathetic it must have looked to the heavy lifters around me.
Shame on me for going that direction! It quickly dawned on me how significant this was; in that moment, my perspective shifted to gratitude.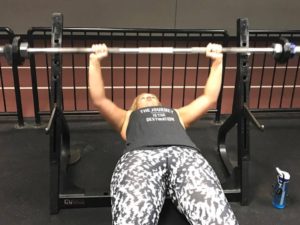 Although there is just no flattering angle for today's NSV…this non-scale victory is so important! I don't know if you can even see those weights on that bar, but I am pressing 55 pounds. Today I am especially grateful for the ability to lift anything considering it has taken me three years (post car accident) to work up to this following broken ribs/sternum and the chiropractor putting shoulder, neck and collarbone stuff back where it all belongs. It feels downright awesome to be fully functional again. ALIVE!
Friends, have you struggled to finally achieve something you've been spinning your wheels to accomplish? Instead of beating yourself up about how long it has taken, grant yourself a moment of grace. Look back at barriers you've had to overcome in order to be where you are right now, then consider it a NSV to celebrate! A shift in perspective may be exactly what you need to embrace where you are right now; it's just one more way to put your Best Foot Forward.