Happy weekend, Friends! Thought you might enjoy this healthy recipe I acquired from a cooking class I recently attended with my Bolder Options mentee. It was a great class and the pancakes turned out fantastic. Because of the content variation, these pancakes are heavier, more dense than the standard recipe. I appreciate they contain oatmeal and whole wheat flour…helps us feel fuller, longer. I also like the substitution of applesauce for syrup. The true test came at home, as my husband and son both liked them. Though they used syrup instead of applesauce, I was happy I could eat the same meal with a simple, lower-calorie modification. Give this recipe a try!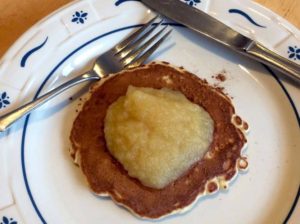 Oatmeal Pancakes with Applesauce
Ingredients:
3/4 cup quick or old fashioned oats
1 1/2 cups fat-free milk
3/4 cup enriched all purpose flour
1/2 cup whole wheat flour
2 tablespoons sugar
1 tablespoon baking powder
1/4 teaspoon salt
2 eggs, beaten
1 tablespoon oil, plus more for cooking
3 cups unsweetened applesauce
Cinnamon
Directions:
1. Combine the oats with milk in a large bowl, let stand 5 minutes.
2. Mix flour, sugar, baking powder and salt in a medium bowl, add to oat/milk mixture.
3. Beat eggs and oil together, add to mixture.
4. Stir just until all ingredients are combined; mixture will be lumpy.
5. Spread small amount of oil onto griddle or pan; heat to medium temperature.
6. Pour 1/4 cup batter onto hot griddle or pan for each pancake.
7. Turn pancakes when tops have bubbled and edges look cooked.
8. Serve sprinkled with cinnamon and topped with 1/4 cup applesauce.
This recipe yields 12 pancakes. One serving equals 1 pancake and 1/4 cup applesauce for a total of 140 calories.