Friends, as I work toward accomplishing my half marathon each month this year, I continue to reach for my OOFOS footwear immediately after each race! With tired, achy feet and legs post run, getting out of my running shoes and slipping on this recovery footwear feels like a million bucks!
In the past, my generous friends at OOFOS have provided me several pairs of their amazing footwear for test drives, reviews and giveaways. They've been partners in the many, many miles I've put down this year and I couldn't be more grateful. The OOlala Sandals took me through my Honolulu Marathon training and beyond.
The OOahh Sport Slides have taken me around the country as I trained and completed many half marathons. Sliding into them always provided the perfect relief!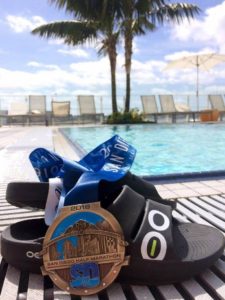 While continuing to train during the brutal winter months of Minnesota, the OOcloogs kept me in supported comfort.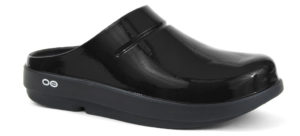 Last week, I received a pair of OOriginal Sport Sandals in the mail…and just in time! I've been dealing with some recent injuries but with the expert help of my physical therapist and the consent of my sports med doc, I continued work toward my goal.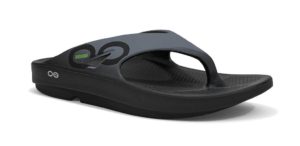 Last weekend I was able to complete the Mankato Half Marathon with my friend Jacque.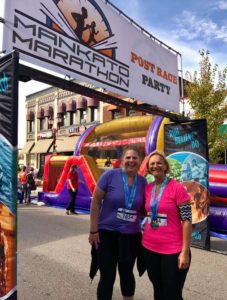 I predicted I'd be in rough shape at the finish line, so the thought of sliding into these flip flops carried me those painful last few miles. I knew these were waiting for me at bag check! And the minute I put them on…instant relief! I don't know how OOFOS does it, but they've engineered their footwear to reduce stress on sore feet, back, and my biggest challenge…knees. The OOriginal Sandals immediately took the edge off and have helped me quickly recover!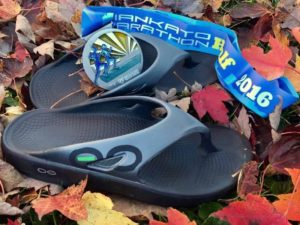 And that's very good news because I'm heading to Washington DC next week for the Marine Corps Marathon, and I already know what will be waiting for me at the finish!
Friends, are you on your feet for hours on end? Are you looking for the ultimate support for tired feet, knees and back? Check out the great footwear OOFOS has available here…you'll be so glad you did!