Hey, fellow FIT BFFs, back in March I was on my way to San Diego to continue working toward my goal of a half marathon each month in 2016. I escaped the frozen, snow-covered tundra of Minnesota with my sights set on surf, sand, sun and a little run. It was time for me to leave my favorite winter recovery footwear, my OOcloogs at home. I contacted my friends at OOfos to let them know I'd love to test out their OOahh Sports and that I would give them plenty of opportunity for race recovery review. Those generous folks provided me with a pair that arrived just in time for my new adventures!
Knowing my feet are sensitive to new footwear, it may have been a great idea for me to wear socks within my OOahhs the first day out. Instead, I slipped them on and took off on foot to cover miles of San Diego sightseeing. Truth be told, I developed a blister underneath one of the bands. I should have considered waiting until after my race to break them in. But no worries, the blister caused no ill effects on my run and I had those OOahhs back on immediately after the race. Why?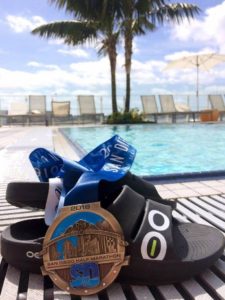 Because I craved the impact-absorption and arch support of these OOahhs. They share the utmost in after-sport recovery comfort with my previous favorites the OOlalas and OOcloogs. You can read my past reviews of those two here and here.
Honestly, I don't know how they do it, but OOfos technology seems to miraculously support all the parts of my feet in exactly the right places.
Slipping into these OOahhs with my weary, road-worn feet was like stepping onto heavenly pillows. Really, Friends, they felt that good! To further prove my point, check out my well-loved OOahhs following my recent monthly races…the Beginner's Luck Half trail run in Henderson, NV.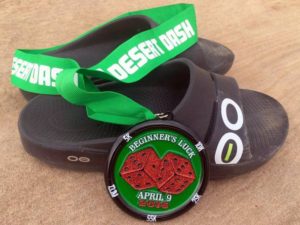 The La Jolla Half in La Jolla, CA.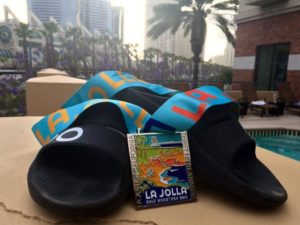 And the Rockin' Robin Half in my hometown of Rochester, MN.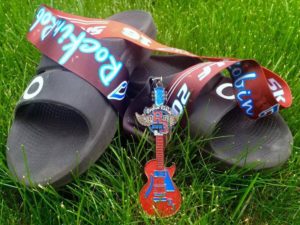 I've put many miles on my feet so far this year, but happily report they continue to hunger for more. I attribute this to the excellent comfort provided by those fantastic OOahhs! With the right recovery support, my feet are ready to go the distance again and again. Runners, walkers, hikers and more, if you can't say this about your recovery footwear, allow me to recommend it's time you check out the amazing products at oofos.com.
I've got several events coming up and because I have OOfos with me, I'm all set!