Happy Weekend, fellow FIT BFFs! As I'm packing up for a girls' getaway, I'm taking time to be mindful. Although I plan to have a blast, I also have every intention of moving foward toward my health goals. It only takes a few moments to consider how you can healthify any road trip.
As soon as I've made travel plans, I begin thinking about what my time away will look like, what activities it will include and how I can weave some extra activity within that schedule. I look for any notable outdoor attractions as well as any interesting fitness locales that catch my eye…fun stuff I don't have at home. It is also crucial to think about meals and do a little research to find some healthy dining-out options. Once plans are formed, it becomes easier to pack for success.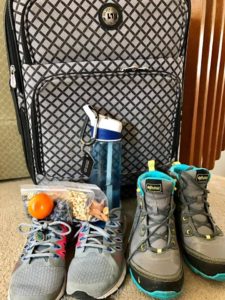 I make sure I have twice as many workout clothes as I think I might need…you never know! I toss a pair of hiking boots and running shoes in the trunk. I never leave home without my water bottle.
A past trigger I had was buying junk at gas stations to munch on. To combat this, I now try to eat a meal at home before I leave and pack some healthy snacks for those stops along the way. I'm much less likely to buy chips, candy bars, etc. if I have options in the car.
One last tip I can recommend is to fit a last-minute workout into your schedule before you leave. If you will be on the road a while, you'll be starting off ahead and will, more than likely, continue on your route to travel success!
Friends, it's just that simple…a little premeditated mindfulness goes a long way. Next time you have a trip coming up, give it a try; you'll be ready to hit the road to good health!