Happy weekend, Friends! I'm continuing to work through the tasks of the Nutrition Scavenger Hunt happening at my local gym this month. This has motivated me to prepare another recipe provided by the Rochester Athletic Club Dietitians. I actually received this one about 4 years ago while a member in their weight-loss program, ridiculous that I waited until now to try it…better late than never!
I made this for a casual weekend lunch today with the goal of nurishing my post-workout hunger. I enjoyed the simplicity of preparation and an amazing, gluten-free, dairy-free, vegan, Lenten-friendly twist on a cool-weather comfort food. This would be a great recipe for meal prep too!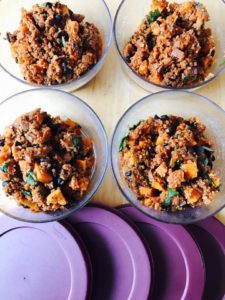 If you're looking for a super food cooking adventure, look no further!
Quinoa and Sweet Potato Chili
Ingredients:
1 tablespoon olive oil
1 onion, chopped
5 garlic cloves, minced
1 – 6 oz can tomato paste
1 tablespoon chili powder
1 tablespoon cumin
1 teaspoon oregano
1 – 29 oz can low sodium black beans, rinsed and drained
32 oz low sodium vegetable broth
1 sweet potato, peeled and cut into bite-sized chunks
Salt and pepper to taste
1 cup quinoa, uncooked
Avocado and cilantro for garnish (optional)
Directions:
Heat olive oil in a large, heavy-bottomed soup pot over medium-low heat. Add onion and cook until soft and lightly browned, about 10 minutes.
Add garlic and cook for 2 minutes.
Add tomato paste, chili powder, cumin and oregano. Cook for 2 minutes, stirring continuously.
Add beans, vegetable broth and sweet potato. Season with salt and pepper. Cook for about 5 minutes, then add quinoa.
Continue cooking for 15-30 minutes, stirring frequently, until quinoa and potatoes are cooked and chili has thickened. If chili becomes too thick for your liking, add water to achieve desired consistency.
Serve hot and garnish with avocado and chopped cilantro, if desired.
This recipe yields six servings at 330 calories with 15 grams of protein and 14 grams of fiber!