I've been spending the week catching up on work and sleep following another epic adventure that was beyond my wildest dreams and a near overdose of gratitude.
Last weekend I took off for beautiful San Diego for the second time in two-months…blessed, again, by the generosity of someone with a HUGE heart! This is how it began…me in FIRST CLASS!!! I took the opportunity to remind myself of the amazing feeling that is the "state of awesomeness," and to refresh my Oola balance!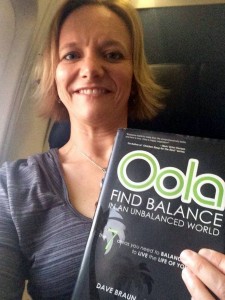 Meanwhile, I took in this breathtaking sunset that just wouldn't quit…literally; we were flying west, right into it!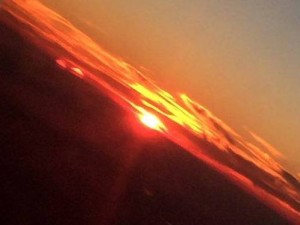 I was returning to San Diego to run another half marathon. Or rather, thanks to a biospy I had earlier that week, I was to walk it.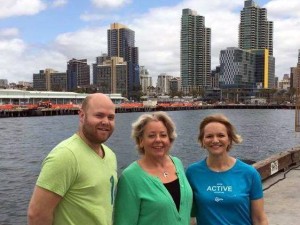 These two are the very reasons I was there. I first met them both in December, brought together to run our first marathon in Honolulu…you can read about that here. Then, just a month later, I flew to San Diego to complete the Carlsbad Half with them…that story's here. How surreal to be back with them three months from when we met!
The weekend got me out of Minnesota to enjoy some relfection…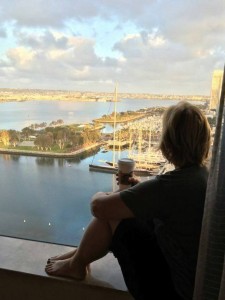 It was a major souce of renewal, rejuvenation, restoration.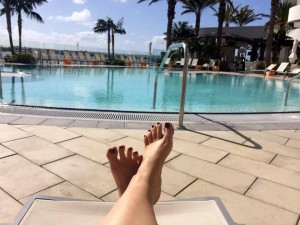 And that made way to some shopping…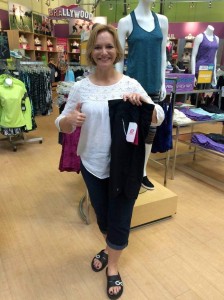 Some sightseeing and fueling…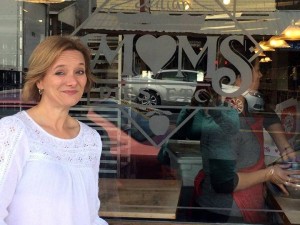 I hid behind the "carb-load" mentality and ate whatever I wanted…correct carbs or not lol!
And so it continued as we gathered for a breakfast of like-minded running buddies. This was a roomful of sheer ambition!!!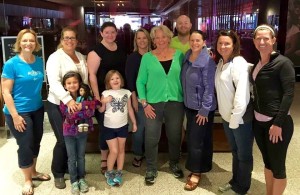 And on to the expo and bib pickup where Beyonce would be proud of me…I left my mark so everyone would know I WAS HERE!
We got that job done and it was back to carb loading hahaha! Pieology seems to be our place!!!
And then it was time to rest one last night for what we came to do!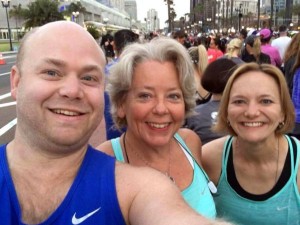 These two mean the world to me! Three months to the day we ran Honolulu, we were back at it!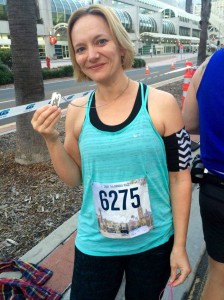 Had my secret weapon along, my lucky charm…thinking of you, Dad!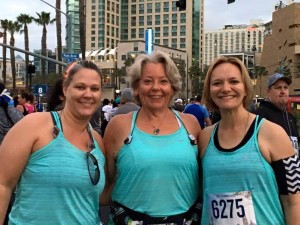 Kim, Rhonda and I stuck together for most of the race. I thought I was going to walk, but my recovery went well and running felt good, so I went for it. The route was beautiful, weather cooperative and the experience PRICELESS!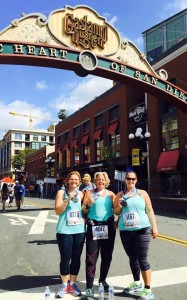 And before we knew it, we finished!
I tracked my performance on 24alife's app and felt accomplished with my result…after all, this race was a privilege I wasn't sure I'd be able to enjoy. What a blessing of an experience with fantastic friends! All told, I marked another three friends off my Facebook Friends Resolution…Jackie, Kristen and Kim…carb load breakfast, bib pickup and running should count, right?!?
It was quickly time to return home with a fantastic Delta meal…a breakfast of champions, right?!?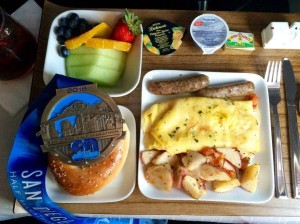 That weekend went by in fast forward mode…explains why it has taken me a week to recover!