Friends, last I blogged, I explained who, how and what put me on a plane to San Diego Thursday morning. I can't comprehend how it's already Monday and I am home, but I can assure you the events of the whirlwind weekend hit me right in the feels!
Matt and I surprising Rhonda at work was merely the beginning.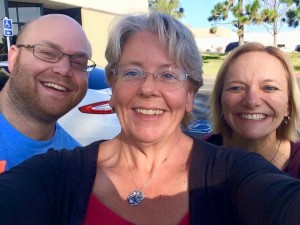 I had some downtime between our adventures to do things like this…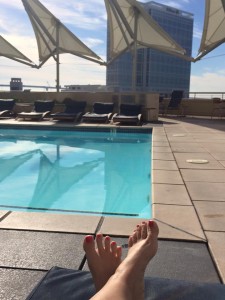 And this…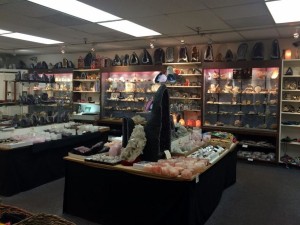 And that was great, but my favorite things about the weekend were things we did together…like riding Pedego bikes to Point Loma Lighthouse. These electric bikes were instrumental in the beginning of Rhonda's weight-loss journey and continue to be a valuable tool for her to stay fit. You can check out her inspirational Facebook page here.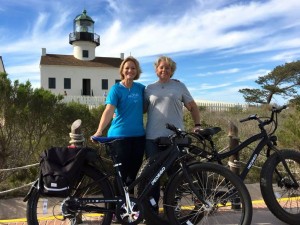 I was especially inspired with these…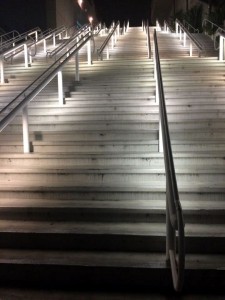 This is one of the many staircases at the San Diego Convention Center. When Matt decided to change his life for the healthier, he turned to those stairs, right there. You can't even see them all. We climbed them one evening on our way to walk along the water. One trip up and my lungs were ready to explode. Matt both climbed and descended those very stairs fifty times per workout to lose his first 30 pounds! Goes to show what a person can do if they just start doing it! You can check out his inspirational Facebook page here.
I was a kid in a candy shop on my first-ever trip here…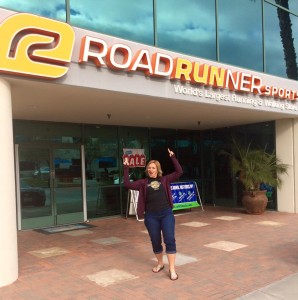 And then it came down to preparing for what we had come to do! I'm usually pretty meticulous about my pre-race nutrition, but I let it slide to indulge in this fantastic meal of OMG! Hey…I'm on vacation!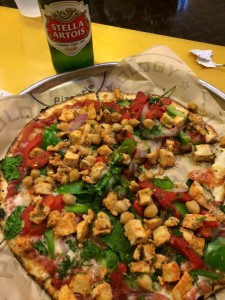 And truth be told, I'd do it all again if I could! The rest is a blur that started Sunday morning at 4 am…up early to head to Carlsbad. We did all the usual race-prep stuff…coffee, carbs, hydration, gear and lined up for our heat.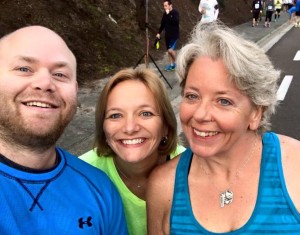 We, of course are smiling here because we are fresh as daisies and have no idea how hot it is about to get! But also, we smile because we know what brought us to this point…dedication, determination and a combined weight-loss total of 417 pounds!!!
The route was brutal in many spots where the road was sloped for drainage. The rollers were great fun too. But the biggest challenge for me was the heat of the sun. It made me so thankful this was only 13.1 rather than the sultry 26.2 we ran in Honolulu last month.
Although the sights were astounding all weekend, the finish line was by far my favorite. It symbolized accomplishment, success, completing what we set out to do! And hey…the medal was totally worth it too!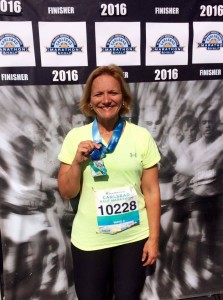 Although this was not our best timed finish…that was far from what mattered most.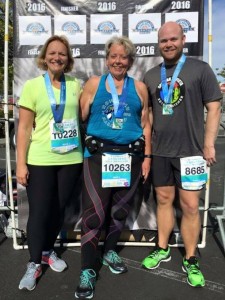 We came. We ran. We finished!!! Matt, thanks for dreaming up this great idea and making it happen. You two have changed my life twice within a month; I can't wait for our next chapter!