Friends, I apologize for my absence lately, I've completed something profound and it has taken me an additional week to recover and wrap my brain around the experience. If you follow me on Facebook (at FIT BFFs), I kept you up to speed.
For years now, several friends and I have tossed around the idea of riding Ragbrai…the Register's Annual Great Bicycle Ride Across Iowa. We joked about it because it seemed like an insane idea, spending an entire week doing nothing but cycling across the entire state of Iowa and camping out every night during the hottest time of year. We laughed about it, because it seemed like daring each other to die!
I admit, it became a challenge that began taunting me with its allure. The time never seemed right and when I started being tempted, no one else would commit. It should also be noted that, at the time, I was riding around on a 20-something year old, 10-ton Huffy that would have made the ride an absolute hell on wheels.
Two years ago, following a serious car accident that left my body and spirit broken, a miraculous thing occurred…I won a bike from the Rochester Post Bulletin's giveaway, generously provided by Jennifer, owner of Essence Skin Clinic. I couldn't help but think it was meant to be!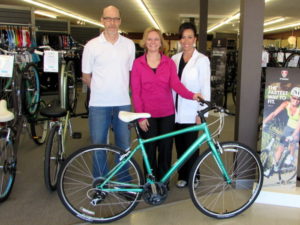 The timing could not have been more perfect. I needed an incentive to quit the pity party and get back to the business of increasing my strength and stamina. Slowly but surely, this was the vehicle that brought me back to life. I regained my zest and was soon accompanying my Boy Scout buddies on their 50-mile rides to earn their cycling merit badges. I thought that would be the extent of my long-distance adventues, but boy, was I wrong!
When I resolved on New Year's of 2015 to do something fit or active with each of my Facebook friends, I never imagined how far it would take me. I messaged a former SuperStar Video co-worker from ions ago, Tim, and asked what he'd be up for. As crazy luck would have it, he owns a Ragbrai team and invited me to ride Ragbrai. And if you know me, you know I can't refuse a challenge and will try anything once, so I couldn't say no. I read up on this year's route and learned, contrary to what we Minnesotans believe, Iowa is very hilly! One look at the route's elevation had me freaking out. Good grief, what had I agreed to?!?
There was only one way to deal with this knowledge…TRAIN! It was difficult to balance my marathon and Ragbrai training, but I did the best I could. I biked whatever miles my schedule allowed during decent weather and hit the gym's studio cycling classes too. I'd love to tell you I felt fully prepared, but that would have been a flat-out lie. And before I could even comprehend, it was GO time!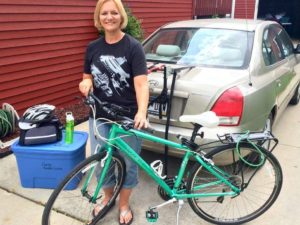 This was the extent of my gear…bike, helmet, trunk bag, water bottle and a rubbermaid tote…CRAZY! I drove three hours south to Cedar Rapids to set this one-of-a-kind adventure into motion; at that point, there was no turning back. None.
It was surreal seeing Tim and meeting three of his six children; keep in mind I hadn't seen him in something like 18 years. Although I was a bit apprehensive about this thing I was about to embark on, I knew in the event of disaster, Tim had my back. Probably.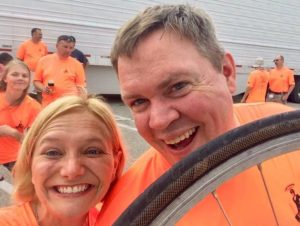 Tim's outfit, Team Wimpy, gathered that morning to pack the bus, load the bikes atop and travel to the westernmost point of the ride. Here we are, ready to roll…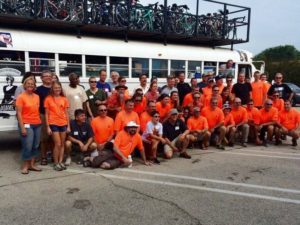 Upon arriving in Glenwood, we set up camp in someone's yard, much like most of the other teams. It was miserably hot and humid. I constantly hydrated through the rest of the afternoon and evening as that fluid spilled right back out of my pores. I hit the expo, grabbed some food and retired early to my tent where I maybe got a total of an hour of sleep in a sweat-drenched stupor. That seemed to be the experience of most of the team…that was one unforgiving night. None of us were well rested, but we eagerly started out the next morning!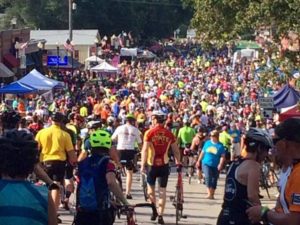 This was the extraordinary view of riders from all over the world ready to get this party started! Sunday, that first day, there were over 19,000 cyclists working their way the first 50 miles. I quickly learned the importance of clear, concise communication on the road. I'd done my homework to know how to RIDE RIGHT, but reading about and experiencing were two very different things.
Although I rode up on multiple accidents and difficulties throughout that first day, I never felt unsafe. There is an amazing sense of security on Ragbrai, knowing members of the Air Force Cycling Team are nearly everywhere, ready to lend a helping hand…for any reason. I LOVE those guys!
I feel fortunate to have not required their assistance along the way, but so grateful in knowing they were there!
It felt great to be putting those first 49 miles behind me. I was constantly inspired by the makeup of this event…people of all shapes, sizes, ages and abilities embracing a common goal in unique and creative ways on all sorts of wheeled vehicles.
It was a mercilessly hot first day. I can't tell you how relieved I was to arrive in Shenandoah that afternoon, ready for a shower, some refueling and a restorative night's sleep.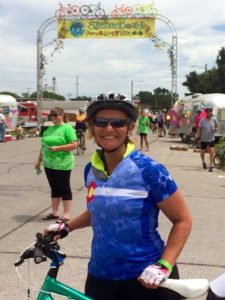 I just love how the towns embraced all the riders, and was thrilled in knowing this was an enormous, economic boom for them too…win/win!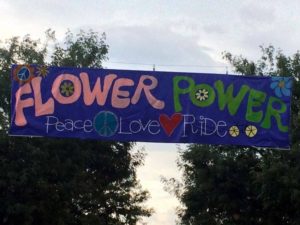 Props to Team Wimpy for the abundant source of power; so nice to be able to recharge all my technology!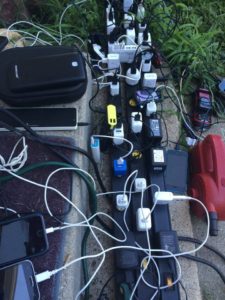 Distance wise, Monday…Day 2 was a new PR for me. I'd never ridden 77 miles before in one day. I was able to use my handy 24alife app daily to record all my stats. Although I think the calorie expenditure seemed pretty inflated, it gave me permission to eat. whatever. I. wanted!!!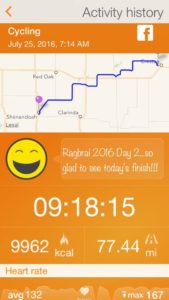 I wasn't sure how Day 2 would treat me with the heat and distance, but I kept on top of nutrition and hydration. It was Military Veterans Appreciation Day, and I appreciated having a secret weapon momento of my dad along for the ride…his memory has seen me through some pretty tough stuff lately and I was glad to have him on board! The hills were unceasing that day…3,994 feet of climb.
I came upon a wonderful distraction that day named Linda. We rode together for several miles and found we had a lot in common. When I told her about how my Facebook friends resolution got me into this, she wanted to become FB friends too. Though she didn't want to count this as our activity together, she invited me to go whitewater rafting in Colorado…see how I get myself into these adventures! I couldn't say no! Those few miles we rode together really bolstered my spirit. I'd been riding alone so far and Linda's exactly what I needed!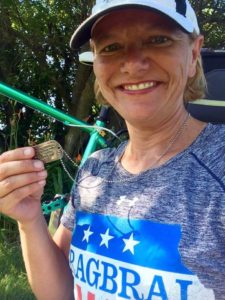 I was happy to roll into Creston that afternoon…time to set up camp, shower, eat, sleep, and repeat again Tuesday.
Tuesday was only Day 3, but it was kind of a blur for me. The days seemed to run together in my mind. I kept comparing the day-long riding with so many others with the East Austrailian Current Marlin rode in Finding Nemo. I felt like once I was on the road, I was in continuous forward motion with thousands of other turtles, umm, bikes, I mean. I felt like I had no control over that motion…I just had to let it take me. And later, when I was taking a lunch break, I had to remind myself to get back on my bike and just keep swimming…or biking, I mean. I guess that many hours and miles on the road in the heat of the sun does some pretty strange things to a person's brain lol. Before I know what hit me, I arrived in Leon…Day 3 done!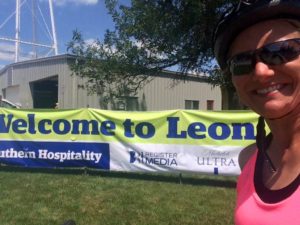 I took full advantage of the enormous calorie deficit I'd created throughout the day and decided to enjoy some downhome cooking from the fine men and ladies of the Methodist Church…these people know how to refuel hungry bikers, both physically and spiritually. I felt as though I had dined with family!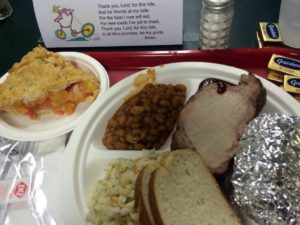 Day 4 was 65 miles of Carla's getting tired. So I made more frequent stops and indulged in several of the tempations along the way. It helped. I was thankful to land in Centerville for the evening.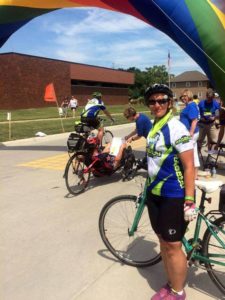 I set up camp, showered and headed toward their town square. I will be returning to Centerville for a girls' getaway weekend sometime soon. I was enchanted by the charm of their unique boutiques and quaint coffee shop where I realized how much I appreciate wi-fi and just how weathered I was beginning to look. I thought if this kept up, I would likely resemble the Marlboro Man by week's end.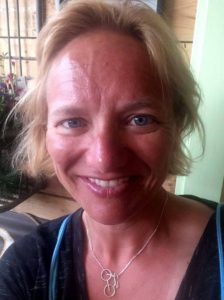 I grabbed some grub at The Garage while soaking up some much needed air conditioning.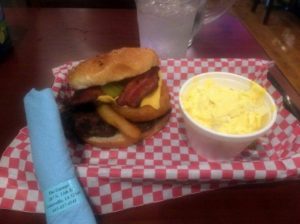 That burger was a game changer! Having refueled, I felt more like myself and was reminded why I was here…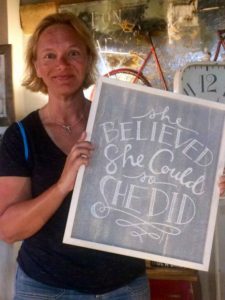 I stayed up late that night to blow off some steam at the Hairball concert…rock on!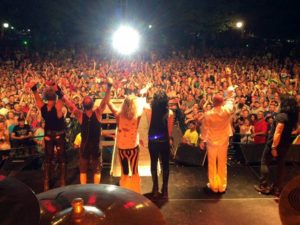 Day 5 threatened to bring me down. As I hopped on the team bus to grab up my stuff off the closeline, I was horrified to discover that someone (probably unknowingly) went off with my bike shorts. They were nowhere to be found and my hiney went through the next 51 miles with zero padding…good thing I have some of my own, I guess. I was determined to not let it destroy my day, because I had something I was looking forward to in Ottumwa…well besides the finish line for the day.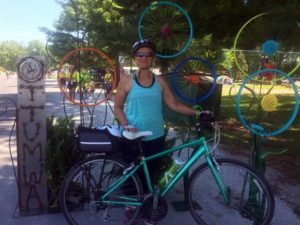 I knew a favorite little something was waiting for me in Ottumwa. Little did I know I would have to climb a vertical hell to get there, but it was SOOOO worth it! Some of you know what lengths I will go to for my Pita Pit!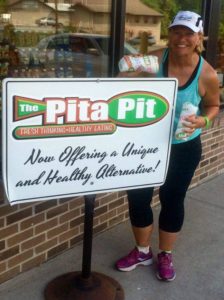 I got far more than my most coveted chicken souvlaki pitas…I had the most incredible conversation with Elliott Oil Company's Foods Supervisor Joyce P! Our chance meeting was a much needed heart-to-heart in divine timing. Joyce, your story inspired me and those two hugs were PRICELESS. I love how life sends you exactly what you need, when you need it!
It happened again on Day 6, thank God, because I hit a major wall! My shorts did not turn up and my hiney was on day two of crabby. The weather was overcast and much cooler, so at least I had that in my favor. I was suffering from the effects of cumulative exhaustion. Although I slept well, this week was really taking its toll. My confidence was shot and I imagined my emotional eating came out of its four-year hiatus with a vengeance. Really, I wasn't doing all that bad, foodwise, but after having lost a ton of weight and having counted, measured, portioned everything out for so long, I was starting to feel out of control on this ride. Like 246 lb. Carla out of control; a mind can really play tricks
What I needed to remember was that the 72 miles I rode that day needed fuel. I started out fast and should've taken time to eat more earlier in the day because by the time I hit a wall, it was too late. I attempted to revive myself with this…
But I was too far gone. I continued to ride and ride because that was the only way I was going to get from point A to point B. I had come way too far to jump aboard the sag wagon now. I was determined to say I rode every last mile across Iowa.
However, the final mile of the day became my toughest all week. My positive thoughts and self affirmations were long gone. A 58-year old man from Des Moines rode up next to me and asked me if I was okay. I told him I was having a moment. He told me he and I were not like all the serious bikers out there. He asked me if I felt like I was going to cry because that's how he felt with each town he reached…like each is a victory.
The tears started. He asked if I'd been riding the entire week and I nodded, inches from bawling. Then the magic words came…"Do you realize what you've just done?" Um yeah. Tears pouring down. And then exactly what I needed to hear at the very moment I needed it…"You should be DAMN proud of yourself!" He went on to talk me up the final hill into town. And of course, the moment we hit town, he disappeared. Yeah, I know exactly who sent him.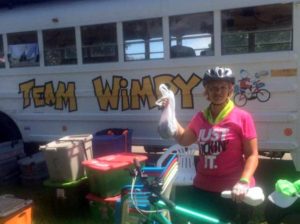 I skipped the hoopla throughout town and rode directly to the vendors and bought my sorry butt a new pair of bike shorts. I was determined to end this thing on a high note! I grabbed some Chinese with some of Team Wimpy, okay a TON of Chinese. And got my aching ars to bed. I knew what tomorrow was and I was going to do this thing!
Day 7, oh how I'd waited for you! Just rehearsing in my head how this day would play out was heavenly. I had renewed resolve. I was nearly giddy as I ripped my tent down for the last time…I don't care if I ever see that thing again! Because guess why? I was sleeping in my own bed tonight!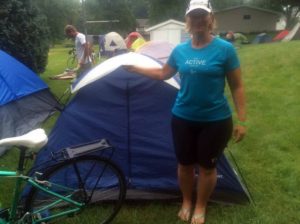 I only had 50 miles left. After 370, that was NOTHING! And much fewer hills were icing on the cake. As I was riding pretty early on, I heard someone from behind…"Is that Carla?" Music to my ears! Another one of those what I needed, when I needed it kinds of things. It was Linda of Colorado, from Day 2! What a gift in a sea of over 20,000 riders that day to meet up with her. She introduced me to her sister Donna and we stopped to enjoy our last meal. Together!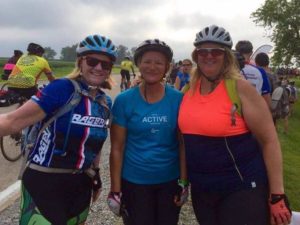 I don't even remember most of the rest of the miles that day.Those last couple were dreamlike. This had been the biggest physical and mental challenge of my life. When Muscatine came into view, relief washed over me. I was finishing what I'd set out to accomplish. I rode every last of 420 miles, 7 days, 2 wheels. The Mississippi River was a sight for sore eyes. In true Ragbrai tradition, I dipped my tire…
And it was done. And there was only one picture left to take. One I wasn't sure I'd ever have, because I didn't think I'd ever do this crazy thing.