Friends, I'm coming off another one of those weekends. One packed full of adventure, determination, endorphins, frustration, exhaustion, hilarity, non-stop forward motion, teamwork, triumph and victory!
This past weekend was all about coming together with someone I met in December at a murder mystery dinner theatre. We became Facebook friends and when that happened, it was time to think about marking her off my Facebook Friends Resolution…you know the one, fellow FIT BFFs; to do something fit/active with each of my Facebook friends. Emily invited me to join her Twisted Blisters team to run the Ragnar Great River Relay, where together we would continuously run 200ish miles over the course of two days. And since I will try anything once, of course I said yes! But here's where the storyline was altered.
Circumstances kept Emily from participating, so I dove headfirst into this event with ten perfect strangers, nearly all new to Ragnar! Luckily we had a seasoned veteran join last minute to provide expert guidance and support. Heck, she even gave me her guestroom the night before…thanks, Kristine! Our team was split between two vans; my van was the half to begin the relay bright and early Friday morning…this pic is Van #1 plus Kristine.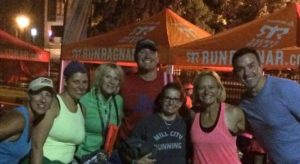 And before I was even able to consider how far out of my comfort zone I was about to be hurled…it all began. Once set into motion, there was no turning back. Zero! I was runner #4, which allowed me to observe the first few legs and exchanges to get a pretty good feel of how this would all play out.
My first leg came up quickly and I was thrown out on the road with some pretty typical Minnesota heat and humidity that is August in the Midwest. But that barely factored into my mindset as I plowed through my first 6.6 miles. I was embracing the beauty of the banks of the mighty Mississippi.
And soon our van was finished with our first rotation of the relay. We stopped for lunch, then went on to meet the other half of our team, as a few legs had been cancelled due to a little flooding. Yeah, I guess it might have been a bit tough to run and shuttle through areas such as these.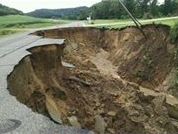 The day flew by as, one by one, we took our turns.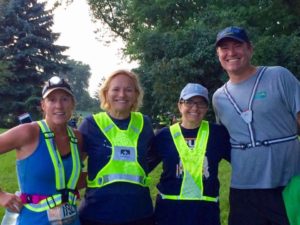 Each stop gave us opportunity to cheer our runner to the finish and get out of our van that, by then, was escalating in stench.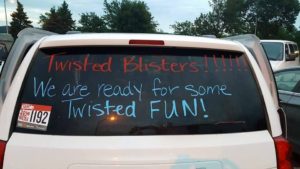 Soon it was time for my second leg of this thing. Coincidentally, Emily turned up at my exchange as a volunteer. It was a perfect time to see her, was encouragement I took along for my next leg.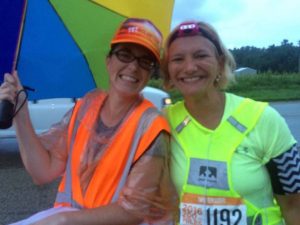 Because it was evening, I was outfitted with my required vest, blinking tail lights and headlamp. I was running into a drizzly abyss that cleared up to reveal sunset. I found myself smushing through sloppy, gooey gravel, between cornfields in the darkness of middle-of-nowhere Wisconsin. Thanks to an earlier deluge, the temps were quite comfortable and the stillness of night was settling. It occurred to me that although completely alone, except an occasional runner passing me, I was not afraid. I had a comforting sense of contentment. And just like that, my quick little 3.4 miles were done.
Upon completing our second rotation, Van #1 slammed some grub and headed to a motel where we took in a quick 2 1/2 hours of restorative sleep. I enjoyed a life-changing shower and very soon we were at it again!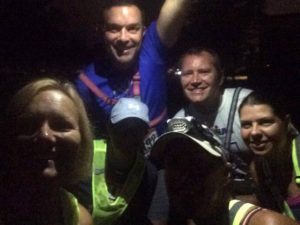 I made a critical error in grabbing a gas station breakfast. I guess they call it a gut-bomb for a reason. I don't know if it was that, the exhaustion or nerves that hit me, but my belly revolted at each of the next four exchanges. The porta-potties were less than user friendly, and I found myself attempting to stifle my gags. By the time my final leg rolled around, my stomach was mad as hell.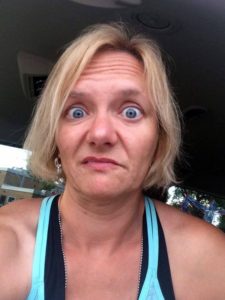 The last thing I wanted was to run, especially since this was my most difficult leg through the rolling, rough and unpaved trails of Afton State Park. I dug pretty deep to get that one done. I did my very best to embrace that 5.5 mile leg but came up pretty short in the gratitude department. It was not one of my finer moments, but I got it done. This will probably go down as my least favorite race pic of all time…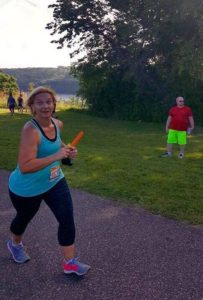 Or maybe this one…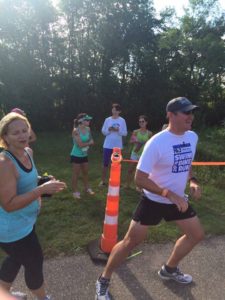 But Andrew was right there ready to crush his last leg in rockstar fashion. It took a couple drags on my inhaler and the relief in knowing I was done to put that one behind me. We hopped back in the van and soon finished our final rotation with a quick meet-up with Van #2.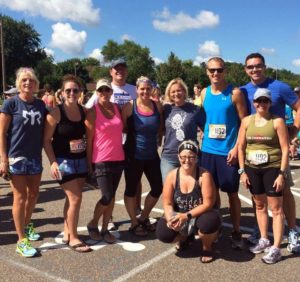 As they left to finish it all, Van #1 drove forward to the finish line by way of a fantastic little brunch detour. Once at the finish, we had some time to kick back as we waited for Van #2 to arrive.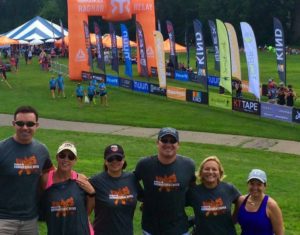 It was inspiring to see each team join in the final few yards as their last runner arrived. And when Kristine came flying down the hill, our team put closure to this wild, warrior experience together!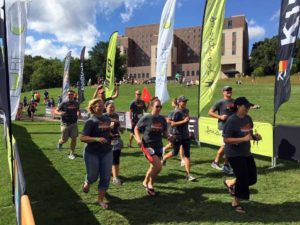 Just like that, it was done. The Twisted Blisters finished what they'd set out to accomplish.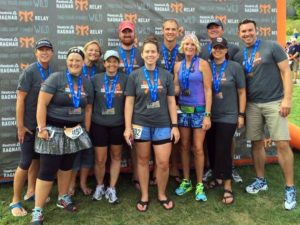 Just 35 hours earlier they were all strangers, but I left with 10 amazing friends. Even though I wasn't able to cross Emily off my resolution list, I had others to mark off…I love how it all worked out.