I've been silent lately, fellow FIT BFFs…it's time for me to come clean. I would like to tell you that faced with difficulties, I met them head-on and overcame them; that's what the new Carla would do. But I went a different direction…I regressed to old Carla. And not being particularly proud of that, I felt like a hypocrite trying to blog about it on this healthy living blog. So I took some time off. But I'm ready to share in the hope that some of you relate.
I recently embarked on a new marathon training schedule here in Minnesota, in the dead of winter. I also began a new phase in my weight-loss/management program and was challenged to set some new goals. These two things alone, ordinarily, would not be cause for me to derail, I've been doing this healthy lifestyle thing for over three years. But I've been struggling with lots of little, insignificant things that together have managed to make me miserable.
The weather has been less than stellar, forcing me indoors for my training runs. I hate running on treadmills; they go nowhere. They are boring. I CRAVE the outdoors. The gloom and doom of continuous overcast skies have weighed me down too. I NEED sunshine! I should have reminded myself this is typical cabin fever. I felt ridiculous suffering from it because I spent part of December in Hawaii and some of January in California. And, I was headed to Florida for a girls' weekend and lacking enthusiasm about it…what was my problem?!?
Work has been chaotic lately. I've taken on more hours that have resulted in less "me" time. Although I made an effort to get to yoga, and treated myself to a massage, I succumbed to feeling overwhelmed. I've felt the difference in the gym too; it's been a barrier to accomplishing my most recent goals which makes me feel like a failure.
I've been making horrible food choices…like chocolate chip cookies. And chips. And pop. And it stopped occuring to me to even care. Until Monday when I stepped on the scale in my dietitian's office and I was up five pounds…FIVE! I'd love to blame it on a hyper-bloated, long-lasting bout of near-homicidal PMS. Sorry…TMI! But none of this was the fault of any one thing. I was experiencing a perfect storm of blahhhs.
My head was not in the game. As a matter of fact, it felt empty. Void. When I looked in the mirror, my disgusted mind saw the 246 pound Carla, and it terrified me. How did I get back there in my head when I clearly wasn't?
Although it was awkward, I started talking to some friends and family about it the past few days, and it's made all the difference. A few who have been through similar transformations have sent me some critical, much needed messages of support. I couldn't be more thankful for the priceless words of encouragement I wouldn't have received, had I kept silent.
These messages motivated me to get my eating back in check, to make the best of my lastest session with my trainer. I also chose to attended a meditation class to quiet my mind earlier this week. And yesterday, right before my flight, I surrendered to a most freeing reiki healing session. It helped me drop a pile of mental and emotional baggage. It was time to reset!
I returned home to finish packing, boarded my flight and escaped winter's grasp. I landed in Jacksonville last night and found myself ready to make the most of the next leg of my journey. I could see much clearer this morning greeted by this…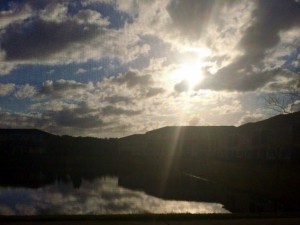 The promise of a new day reminds me it's going to be alright.
Friends, we all struggle from time to time. If you are dealing with something you can't explain, tell someone about it. We can gain valuable insight, understanding and perspective from someone willing to listen. It's what helped me turn it all around. This journey is not easy and it is loaded with roadblocks and setbacks. The best thing we can do is grant ourselves some grace and give tomorrow all we've got…just one more way to put our Best Foot Forward.