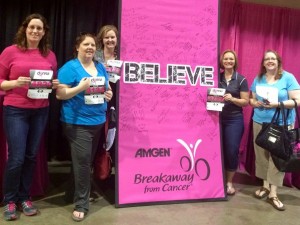 Fellow FIT BFFs, back in February, a friend made this bowl of deliciousness during a race weekend getaway in Jacksonville. It was such a wonderful treat, I've thought about it again and again.
Well, I should be careful what I wish for…last weekend I messaged her for the recipe and although she doesn't have one, she described her process and possible modifications. That Oatmeal Angel went on to hand deliver the ingredients to me as a heartfelt care package so I could make it right away. Julie, your kindness humbled me; many, many thanks!
Here's the recipe for a breakfast I've looked forward to every morning this week…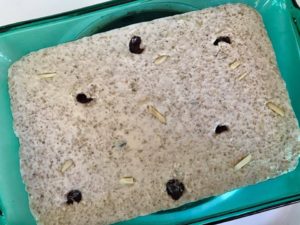 Refrigerator Cherry Almond Oatmeal
Ingredients:
1 cup steel cut oats
1 1/2 cups almond milk
1 1/2 cups fat free half and half
3 tablespoons sugar
1/4 cup raw almonds, slivered
1/4 cup tart dried cherries
Directions:
1. Mix steel cut oats, almond milk, sugar and half and half in sauce pan. Cook according to oats package instructions, mixing often until thickened.
2. Remove from heat. Mix in almonds and cherries.
3. Place in glass pan or bowl. Refrigerate. Optional: you could also spoon mixture into six smaller containers for a simple grab-and-go breakfast
4. Cut into 6 equal servings. Serve warm or cold.
This recipe yields 6 servings at 224 calories each.