Friends, something happened yesterday that was just too exciting to keep to myself. Let me back up a bit to set the stage…
A few weeks back, my friend Matt nominated me for a push-up challenge to spread awareness for veteran suicide. I was to do 22 push-ups daily for 22 days. Why 22? Sadly, each day an average of 22 veterans kill themselves.
Well, as many of you know, I can't back down from a challenge, and there's a huge place in my heart for our veterans…those brave men and women who have put their lives on the line for us. So I just couldn't say no.
Each day I've been posting a video of my push-ups on Facebook. I realized right away how boring it would be to do those push-ups in the same manner every day, so I thought I'd try to spice things up for my Facebook friends.
It has become great fun for me to choose some interesting locales as my backdrop. A set in the snow back home in Minnesota was a great contrast, as a Christmas trip found me doing push-ups on Cocoa Beach, under Spaceship Earth at EPCOT, beneath the Tree of Life at Animal Kingdom and next to the Knight Bus at the Wizarding World of Harry Potter in Universal Studios.
Friends, yesterday will be impossible to top, as I had some magical help from a life-long friend. I met up with Mickey as the Sorcerer's Apprentice for a quick round of 22. What happened next blew me away! Watch the video to see Mickey do something completely unexpected…props to you, Mickey, and thank you for helping me spread awareness for #22kill!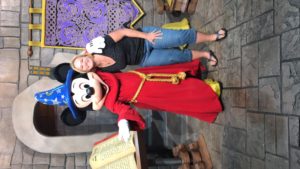 You can check it out here!
I encourage you to reach out to the Veterans in your life and remind them that they have your love and support. Please spread the word that Veteran suicide is not the answer!
Veteran Crisis Hotline for veterans and families in immediate crisis, please call 1-800-273-8255 and press "1" or send a text message to 838255. You can also chat with someone online at www.veteranscrisisline.net