Friends, I couldn't be more excited about sharing with you something that arrived in my mail recently.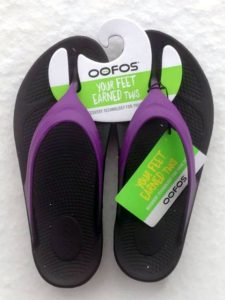 My friends at OOFOS provided me with a pair of their amazing recovery technology for feet in one of their amazing new colors! Although it may seem ironic these arrived while snow still blankets much of Minnesota, I couldn't be happier to have them here right now! Why? Because I am breaking them in at the indoor pool, dreaming of warmer weather.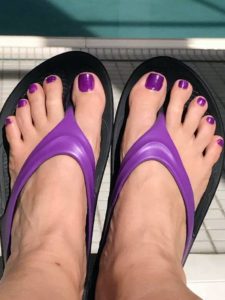 I already know what magic OOFOS footwear performs on my feet and legs. I am no stranger to the much-needed comfort they provide post marathons and half marathons. Here are some fun post-race pics from some recent events…
OOFOS footwear looks like an ordinary flip flop or slide or clog, but the instant you slip a pair on, you know you are dealing with something entirely different. That's because OOFOS designs their footwear to enable a more natural motion, to absorb shock with every step, to cradle your arches. And that's great news because after a long run, bike ride or strength/weight training session, I yearn to eleviate the stress placed on my feet, knees and back.
This new pair of OOlala sandals is working overtime for me. I've been dealing with issues resulting from injury…a temperamental meniscus and patellofemoral pain syndrome in my left knee and some angry arthritis in both for several months. Even though it's not quite time for these outside…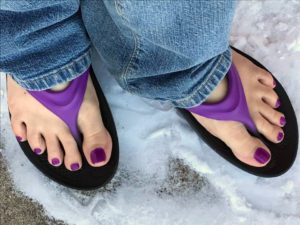 they've been providing some pretty impressive relief from all three issues as I wear them around the house. I may have recommended my sports med doc start writing an RX for these for his other patients lol!
Friends, I'm pretty much addicted to this company's footwear and I know you'll love them too. But don't take my word for it, stop by their website and check them out for yourself; your feet earned it! While you're there, you'll notice all their classics as well as some scrumptious new colors too!

Readers, if you've followed my blog for a while, you know how generous OOFOS is, so I recommend you all stop back tomorrow for an exciting little somethin' somthin'…wink, wink!