Happy Win-It New Years Edition, Friends! I'd like to take this opportunity to thank each and every one of you for stopping by this year and hanging out with me at the blog! I'm so grateful to have partnered with some wonderful companies this year, which have enabled me to share a few of my favorite fitness/wellness products in the industry with you.
You may remember me mentioning them in past reviews, like how my love of yoga has been greatly enhanced by my friends at Aurorae…
You might recall how OOFOS recovery footwear has been my constant comfort companion throughout my running/marathon days and now well into my injury recovery and osteoarthritis management…
And who remembers my friend Tim of Rollga…the co-creator of my favorite foam roller I keep running into when I'm in dire need of relief? 
Friends, are you feeling lucky this New Year's Weekend? I hope so, because there are some great prizes to be won from these fantastic companies…want to know what you could win?
The kind folks at Aurorae have generously contributed a prize pack including a yoga mat, tote and towel for one lucky winner. This will surely illuminate your life…namaste!
Those generous folks at OOFOS have decided one lucky reader will win a pair of OOFOS of their choice! Remember, they offer many options so my Midwestern readers in the deepfreeze may like OOcloogs or OOmgs over the OOlalas right now. The lucky OOFOS winner will, no doubt, feel the OO!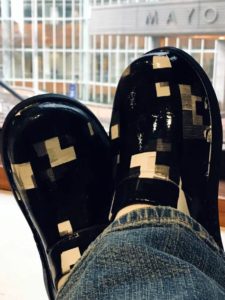 And last, but far from least, these genius, generous developers of Rollga would like to help one lucky winner find their Ahh-Spot with the awesome black and gold Rollga foam roller in Taggart's hand on the right…you'll be so grateful to roll with it!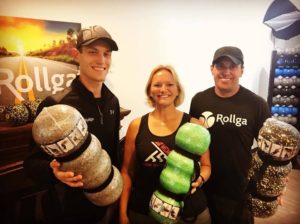 Many, many thanks to my friends at Aurorae, OOFOS and Rollga for partnering with FIT BFFs for this fun!
Wondering how to win? To enter, simply leave a comment below mentioning what goal or intention you plan to work toward in 2018. That's it!
Entries will be accepted between now and Tuesday, January 3rd, midnight central time. Three lucky winners will be randomly drawn and announced on Win-It Wednesday, January 4th.
Please note, this giveaway is open to US residents only. And remember, you can't win if you don't enter, so do it right away!
Good luck!!!