Happy September, fellow FIT BFFs! Parents across the country are breathing a sigh of relief. They've survived another action-packed summer and it's time for the kids to go back to school! It's time for students to be reunited with friends and return to a predictable schedule.
This becomes the perfect time for parents to return to themselves, so to speak. Back-to-school season is a great time for parents to get motivated, to refocus on their own personal goals…that's what I'm doing.
Although I've lost a significant amount of weight within the past 5 years, I've experienced the slow and silent creep of partial regain. Hey, it happens, but I refuse to beat myself up over it. Instead, I'm reminding myself (and anyone else who's interested) just what it's going to take. This is what I'm calling my…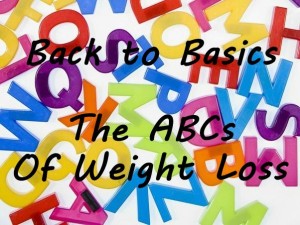 A is for Attitude, make sure it's the positive kind.
B is for Breathe…take time to quiet your mind and soul.
C is for Calories, yeah, they count. Read those labels and stick to a serving size. One.
D is for Determination. Some days will be easy but others you'll need to dig deep. You've got this!
E is for Every Day…a fresh new opportunity to be successful, so go for it!
F is for Food! Remember it's fuel and your stomach is not a garbage can!
G is for Goals. Set them. Reach them. Set more!!!
H is for Hard! Heck yeah, it's hard! If it weren't, everyone would do it!
I is for Inspiration…look for it in others, never stop seeking it out. Soon you'll be inspiring others too.
J is for Journaling. Write down everything you eat…EVERY. SINGLE. THING!!!
K is for Keep Going! Start over as many times as it takes…just keep going!
L is for Lifestyle Changes…lots of little modifications make big differences. Huge.
M is for Mindful Eating. Eat at the table. Don't rush or distract yourself with TV, computer or phone.
N is for Never Give Up. Ever!
O is for One Day at a Time. Results take time; be patient! Yesterday is over and tomorrow isn't here yet, so focus on today.
P is for Promise…promise yourself that you will see this through. All the way!
Q is for Quit, don't you dare! And, for Pete's sake, quit saying " I can't."
R is for Reward Yourself. You're working so hard and you deserve it; buy that new pair of (running) shoes!
S is for Sleep! Get it. Lots of it. You need it….enough said.
T is for Try New Things. Try it all…new activities, classes, ideas, foods and recipes.
U is for Unstoppable. Convince yourself that you are, and you ARE!
V is for Vegetables. Eat them, all kinds of them; they are a weight loss friend!
W is for Water…drink it often. Lots of it!
X is for eXercise. Often. Do the active things you enjoy frequently.
Y is for You Are Not Alone. Many are on similar journeys. Find them and support one other.
Z is for Zero Regret….what you will have when you give it all you've got!!!
Although this may seem a vague goal, I'll be reminding myself of these ABCs daily to move forward in the month of September, mind, body and spirit. I'd love to hear from you…what's your plan this month?