Friends, it's time to celebrate; it's FIT BFFs' 4th BLOGIVERSARY!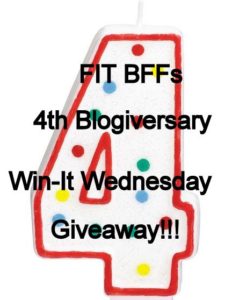 Every year to celebrate, I have done a few weeks of giveaways, so why would this year be any different? Remember how I told you yesterday about my phenomenal experience at Blogfest and IDEA World Fitness Convention and Expo? Well I just happen to have a little giftie collection from some very kind Blogfest sponsors and expo vendors to share with one lucky reader!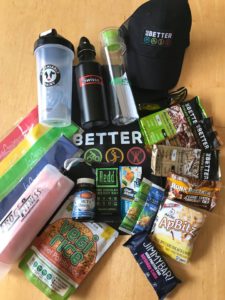 I know it might be hard to see from this picture, but the winner will receive…a BE BETTER drawstring backpack, cap and three delicious Protein Squares, Frog Fitness cooling towel, waterbottle & sunglasses, Swisse waterbottle, Undeniably Dairy Blender Bottle, a bag of Vegi Rice Sweet Potato Rice, JIMMYBAR! birthday cake (how fitting!) high protein bar, R.e.d.d. mint chocolate energy bar, Navitas Organics Detox and Focus daily superfood boosts, bpi Sports performance dietary supplement packet, 30 count MCT 7 Omega-3 soft gels dietary supplement, Bonk Breaker peanut butter chocolate chip fuel bar, Arctic ApBitz and a La Croix set of 4 resistance bands!
What it boils down to…a fitness/wellness/healthy lifestyle expo in a bag!
To enter, simply leave a comment below between now and Tuesday, August 7th (midnight central time), telling one thing you've enjoyed reading about on the blog.
Giveaway open to US residents only. Randomly selected winner will be announced here on Win-It Wednesday, August 8th. Good luck!