Once Upon a Time…
like just this week, I was struggling to find my normal workout determination and motivation. I was looking for adventure, a unique and fit activity that would occupy both mind and body while enjoying the spectacular fall weather…so I did a little brainstorming.
And lately, Friends, I've noticed some super cute little book houses popping up all over town. So I decided to do a little research to learn more. I was intrigued to discover that some of these neighborhood libraries are part of a nonprofit organization initiative that fosters free neighborhood book exchanges around the WORLD! I found this information about Little Free Library here. And upon doing a search of my hometown of Rochester, MN, I found this…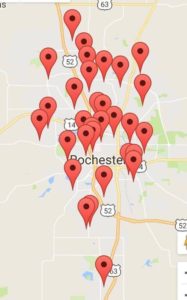 But when I took a closer look at the map, I realized there were quite a few more around town I had seen that were not on this map. So I dug deeper and did a little search for Rochester neighborhood libraries and was sent to my local library's website that provided me a map with even more options…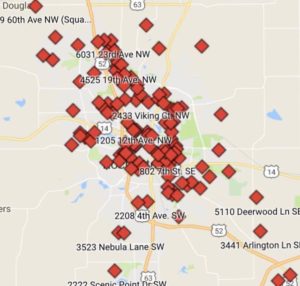 I enlarged the map enough to jot down multiple addresses in an area I wanted to explore and my adventure took shape. I made a mental map of the route I would take on my bike considering safety and distance. I filled my waterbottle, tossed a snack in my backpack, secured my bike helmet and was ready to ride! I rode for only a couple blocks before I came to the first one.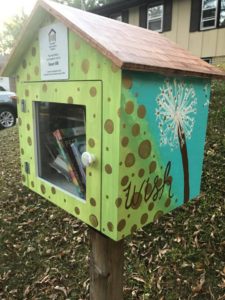 Now keep in mind, the selection is small, but changing daily. Also, the cost is free and there are no due dates or late fees…my kind of library! I was impressed with what I found within in terms of something for everyone. Friends, there were board books for babies, picture books for toddlers, early readers for preschooler-primary, chapter books for the more experienced, adult non-fiction and fiction…so many genres in one little place. I didn't find a book that sparked my interest, but no worries…I had several more addresses to explore. So after a big drink of water, on I rolled!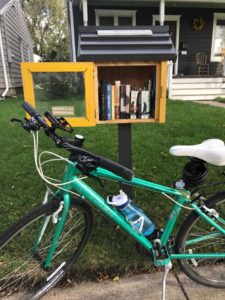 This little library was color coordinated with the owner's house…how cute is that? And again, a wide assortment of titles for all ages. Still nothing for me, but I was just getting started.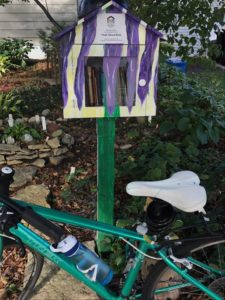 This one was painted to resemble some of the flowers in this owner's beautiful garden. This was beginning to be somewhat of an art tour as well. I think how excited my boys would have been if these had been around when they were little. I imagined them popping out of the bike trailer to see what fun things awaited them at each stop! Just thinking about it made me smile.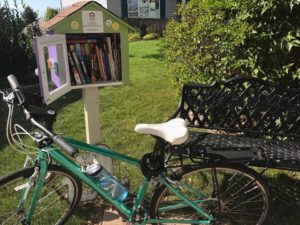 What inviting little places to pause! This house offered a bench to enjoy the library's contents right then and there in case you wanted to stop by for a quick little read. I took the opportunity to hydrate before moving on.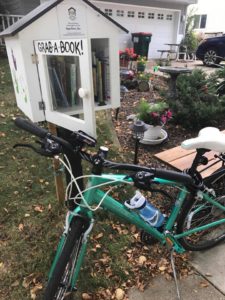 This library was perched on the edge of an enchanting garden with a welcoming bench lining the sidewalk and driveway…how nice is that?!? I'd put several miles down between these stops and was beginning to get hungry, so I sat down to enjoy my snack while perusing a Minnesota wildflowers book. I'd yet to find a book that called to me, but I wasn't done yet, and I was getting one heck of a great workout! Time to hydrate!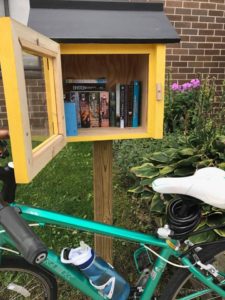 Stop after stop, I was becoming more excited with each library I arrived at because this was like a fun little treasure hunt. I knew, eventually, I'd find a book or two that were meant for me!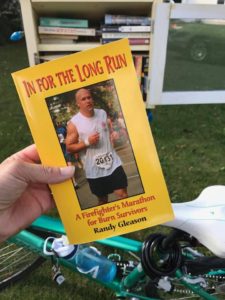 And there it was…just the inspiration I was hoping to find! I popped that baby into my backpack, excited to find something that will light my motivational fire. I could hardly wait to get home and start reading, but I had a few more addresses to go. I marveled at how many miles I'd gone and how much fun I was having. Could this really count as a workout lol?!? Another drink break and I was back on the road.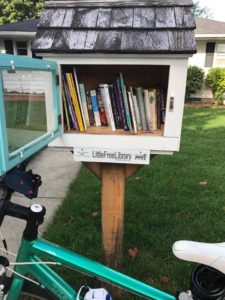 The more I stopped, the more I found myself thinking about putting one of these babies in my front yard. I would LOVE to share the gift of reading with my neighbors! As I starting considering the possibilities of what ours might look like, I arrived at the final address on my list. I was grateful I had found a book, but figured it would be the only one I was returning home with until I spotted this…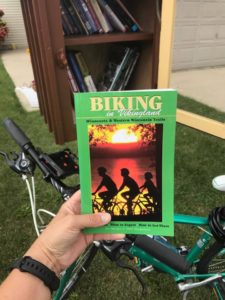 I LOVE when the universe works in this way because as I spotted the title, I knew that book had my name written all over it; it was there just waiting for ME! Not only had I enjoyed an amazing outdoor workout, I found just the thing that will keep me motivated for many rides to come…a biking trail guide for Minnesota and Western Wisconsin! BOOM!
I rode home with renewed energy. This had turned out to be a great day…getting fit with lit hahaha!
Friends, if you are in need of renewed motivation and a creative workout, look up your community's neighborhood and little free libraries, map them out and get moving. This bookworm workout is one more way to put our Best Foot Forward and…
Live Happily and Healthily Ever After!