Hey Friends, I wanted to let you know that although I haven't been writing frequently lately, I am not slacking! Those of you that read my previous post know that I spent the month of October and the first few weeks this month completing a step challenge. It was a very simple idea, work toward getting the recommended 10,000 steps in daily. It was a bit harder for me than it sounded because I tended to get my activity done in ways my Fitbit doesn't track. No worries, though, I made a conscious effort and hit the target all 42 days. Since I last posted, I continued to walk or hike daily, oftentimes with friends…
Even after the challenge wrapped up, I continued to find myself hitting the 10,000 step target every day…great new habit! One that put a crazy idea into my head…more on that in a moment.
I made another great investment of time lately too. A couple weeks ago, I joined a new maintenance support type of group made up of folks just like me who were members of the weight loss program I completed. We have come together to help one another through the holidays and beyond, keeping focused on our health and wellness. Our first meeting two weeks ago featured a healthy potluck. Ordinarily, the thought of a potluck terrifies me because I already know my choices will be few and far between. But this time was very different…not only were all the offerings healthy, the salads and main dishes all included recipes and nutrition info. Here's a glimpse at one of the two bountiful tables!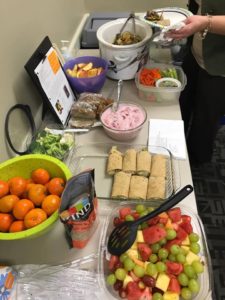 This was the first potluck I ever felt safe about, if you know what I mean. So this program is simple, come together twice monthly to discuss challenges and successes, share helpful tips and weigh-in. We were also offered a food journal and encouraged to use it.
I should mention I joined this group because I not only wanted to maintain what I have left of my weight loss from these past 5 years, I want to forge ahead and drop more pounds. So this is what my first two weeks looked like…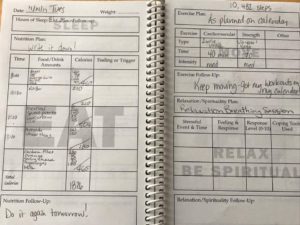 I pretty diligently recorded my eating. I wrote most everything down nearly every day. I didn't really begin with a calorie target for each day, but tried to keep it under 2000 calories.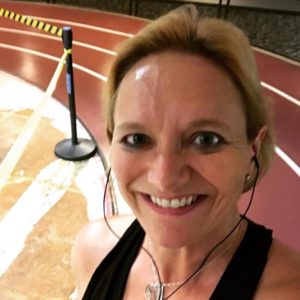 I refocused my fitness efforts too. Just a few weeks back, my gym began a major renovation, one I couldn't help thinking kind of symbolized my renewed goals too. I looked closely at my workout habits and routine and gave it some fine tuning. Beyond continuing my 10,000 daily step goal, I scheduled my strength training workouts and classes into my planner. This has been instrumental in my consistency. Because before I wrote these into my week, they were much less likely to happen.
I'm excited to report I've had two tremendously successful weeks. The scale dropped 5 pounds, my active wear fits much less like touniquets and I'm seeing some fun definition changes already…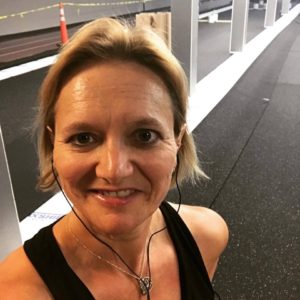 Although the gym changes are obvious, you may not notice any with me. But that's okay, I FEEL them and I know they are there. Even better? I'm driven to continue through the holidays and beyond.
One thing I'm so excited to share is that I remembered my why. Not only that, I remembered how excited I am to work toward some short and long term goals. I set an INSANE milestone goal for 2022 when I turn 50. It's so damn crazy, I'm not going to tell you quite yet what it is. Just know I haven't done much of anything lately that scares me, and this thing is well outside my comfort zone. Way beyond this continent even!
Friends, when's the last time you refocused, redefined and reset? If you are spinning your wheels, maybe the time is now. It is making all the difference for me and is another great way to put our Best Foot Forward!