Friends, are you hungry for something spectacularly healthy? I sure was recently when I dined at Applebee's. I found a spectacular entree that is both a flavor and nutritional thumbs up!
But that's nothing new, I've been happily dining off Applebee's Lighter Fare menu section for years; the calorie information is right there on the menu. I know I can easily stay within my calorie range and that's why I'll return again and again. Plus, I'm kind of partial to a very friendly, young conscienctious server named Logan.
I've learned that by trying new things often, I find new favorites that help me stay motivated to keep on track. When Logan served up this plate of awesome, I knew I'd found a new love!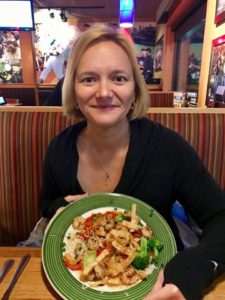 Friends, this generously portioned (Lent-friendly) Shrimp Wonton Stir-Fry contains a mere 580 calories, yet supplies a whopping 24 grams of protein. And, as delicious and satisfying as it was, I have a new favorite; I can't wait to order it again! Applebee's, you just keep doing it…you make eating out so simple for my FIT BFFs and me!