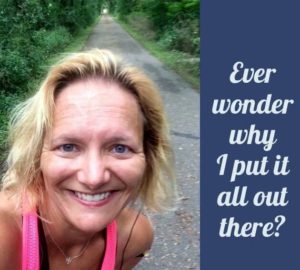 Friends, though I'd love to say I've figured out how to monetize this blog and make a full-time income (or any at all), that has yet to happen. I share my experiences with you for entirely different reasons. So why do I do it?
I know there are others where I have been that need to hear the road to wellness and wholeness is not only possible, but one of the most extraordinary journeys of one's life.
I blog to encourage others as they take the first steps toward healthier living and achieving dreams; to know that if they fail on the first attempt, they have unlimited opportunities to try again. I want to impress upon readers that none of you are alone in any of it if you don't want to be. REACH OUT!
I hope that those struggling with the yo-yo thing, like I did. try one more, or as many times as it takes to get it right. Of course there are difficulties along the way. If wellness were easy, everyone would have it figured out…would be strong, fit, well nourished and complete. But it's not easy, and everyone's circumstances are different. Tough "life stuff" happens and it can easily render us feeling powerless, defeated.
There are many days I begin feeling those circumstances attempting to pull me back. And about that same (divine) time, one of you REACHES OUT and reminds me why I've gone public with my story…why I put it all out there. Your messages mean the world to me, and hearing from you is, undoubtedly, my favorite reward for blogging.
I recently received this message of kindness from reader, Shelby H.:
Hey thank you so much for your inspiration! You are amazing! This Ted talk reminds me of what you are doing! You didn't let digits define you, you became more! You didn't get to choose the cards you were dealt but you chose to do something with your life! Seriously thank you for your inspiration!
And along with her message she attached this link to BeUtoFullness, an amazing TEDx Talk by Tami Hymas.  This video was far too important for me to keep to myself!
Such wonderful words of wisdom, that we don't have to compare or compete with others because you are the only you…we are all exactly differently, the same! Friends, as mentioned, if you're in a tough place, you can become more. As stated, we don't get to choose the cards we're dealt, but we can choose to do something with our lives!
Shelby, thank you for reaching out and giving me a lift when I really needed it!
And remember, Friends, we are all together in this. So whether you are in need of a pep talk, or if you have words to uplift another…REACH OUT!