I know, I know, it's getting down to the wire for holiday shopping, Friends! I wanted to share with you some products that showed up in my mailbox a short while ago in case they might be that perfect something you are looking for!
I would've told you about these sooner, but as with any products I show-and-tell, I take the opportunity to get to know them well first. I recently began using some Gonesh products thanks to their company generously providing me with a couple of essential oils, a multitude of incense, and an incense holder. I LOVE using incense and essential oils as part of my mindfulness/meditation/wellness practice, so imagine my excitement level when I opened the box to find these…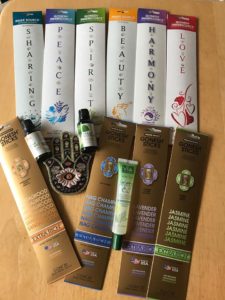 I didn't know which one to begin with because I was intrigued by ALL of it! I was instantly struck with how large the packages were, the actual sticks are much longer than standard ones I've used in the past and there were 20 to a pack unlike most brands with 10. I was also impressed reading how Genieco's incense has the highest charcoal content of any brand currently on the market to deliver the purest, cleanest burn and clear fragrances.
I had a busy day of crafting for my etsy shop ahead. The hustle and bustle of the season were keeping me very occupied. I needed my workspace to remain positive so I decided to venture into the Inner Source line of incense first. This line of sticks was created to help turn negative energy into postive synergy…who doesn't need that? I lit up a PEACE stick, quickly blew out the flame and placed it into the beautiful Hamsa hand holder they provided. I LOVE that holder, as it reminds me I'm always protected.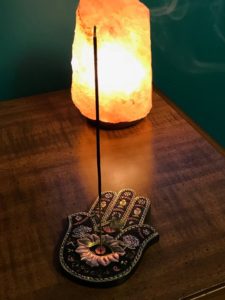 The scent of the stick instantly transformed my room into a peaceful sanctuary for my crafting and packaging. The stick lasted a really long time as it slowly burned down. The entirety of the ash was neatly collected by the hand, and when the stick went out, the beautiful scent remained for hours! I knew right then, this collection is going to last me a very long time…I'm so excited!
I've continued to work my way through the various scents of the Inner Source collection. Each scent has its own rich and vibrant personality and seems to deliver the mood each promises…Beauty, Harmony, Love, Sharing, Spirit and Peace. I love them all! And I especially appreciate that a portion of the Inner Source purchase proceeds will be donated to the Greater Chicago Food Depository. LOVE!
Gonesh also sent me several packs of their Extra Rich collection of aromatherapy incense including yummy Lavendar, Sandlewood, Jasmine and Nag Champa. They are all fabulous too, but I have to say the Nag Champa has a hold on me like no other; what a beautiful way to unwind and clear a space!
As if that weren't a wonderful enough experience, I still had some essential oils to enjoy. I purposely requested the Patchouli and Frankincense since I'd been eyeing them recently at stores. I placed a drop of Patchouli on my wrist pressure point and rubbed it in with my other wrist and enjoyed the lingering fragrance for the whole day. I don't have many oils that stick with me that long, but I'm so glad this one does!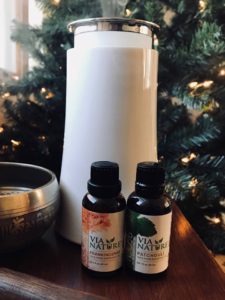 As I began preparing my living room for the holidays, I placed a few drops of both oils in my diffuser and enjoyed the Patchouli/Frankincense treat all afternoon. What a soothing, sensory-pleasing way to work! One thing that really surprised me with Gonesh's Via Nature essential oils is the generous size of the products. Most of my oils are a tiny .17 to .33 of an ounce. These oils are a huge full ounce each and the price is about the same (or even less in some cases) as the smaller bottles of other brands! That got me excited about where I will be purchasing replacements in the future!
Friends, my encounter with Gonesh products was a beautiful experience. I highly recommend them both for your own personal use and for your gift-giving needs. It's not too late to get these in time for Christmas, but they are also available for any occasion. If you've been considering adding incense or essential oils to your meditation/mindfulness/wellness practice, stop by the Gonesh website for a great look around