Friends, I cringe to show you a piece of my backyard. It's that same piece of yard I'm sure my neighbors wince at everytime they see it too. I've neglected my garden for the past five years while I took better care of myself.
Truth be told, I was never all that good at it; some years were better than others. The growing seasons I nurtured it well, it produced a beautiful harvest. Others, not so much. Kind of like my health, huh?
Well this is the year my garden makes a comeback, Friends! I was in heaven a few weeks back, strolling through an abundant farmers' market in Portland. Take a look, here's just a bit of what I saw…
While there, it dawned on me. Why don't I get my gardening groove back? I have zero excuses this year. I'm not quite as busy with my kids this summer, my calendar is wide open, I'm not following an intense running schedule. This is my year, and the time is NOW!
So here it is, what I'm starting with. Boy, do I have a job ahead of me. But no matter, I've got this!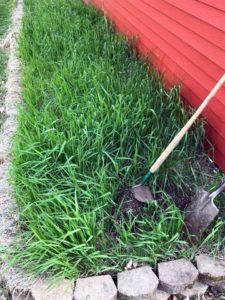 I just enjoyed the most cathartic couple hours back there pulling up weeds. I remember now what I used to love about it; I used to spend hours helping with the gardens of several loved ones that are no longer here. Yup, it was just like hanging out with them again.
I had some birds back there keeping me company too. By the time it started getting dark, I'd managed to clear nearly half of it. My arms and back can vouch for that. I can't wait to get the tiller through the dirt and get planting!
Soon I won't need the farmers' market, I'll only have to go as far as my own backyard. Fellow FIT BFFs, do you garden? If so, what do you plant? Leave me a comment, I'd love to hear what you grow!
Fresh, healthy foods from our own backyards…one more way to put our Best Foot Forward!