Yesterday was one of those days for me, Friends. I wanted to get my cardio in, but I just wasn't feeling it. It was a gorgeous, sunny 55 degrees outside…in February…in Minnesota. This was not a day to waste because by tomorrow Mother Nature will have us completely buried in snow again; the school district is so certain of this, they've already cancelled school!
I know when I feel less than motivated, it's time to get a friend or two involved to get me moving. But it was already 1 pm. Normally when I text a friend, it takes time for them to get back with me. And, oftentimes, the answer is no. I can easily go down a list of 4 or 5 people and still be buddiless. I needed a better plan…Facebook to the rescue!
I realize this was extremely short notice, but totally worth a try! I put it right out there on a status update…I posted that I was looking for a buddy to walk with around 2:00 or 2:30ish and asked anyone interested to message me. I thought for a split second, this could get interesting depending on who responds. Well I was in no position to be picky; I had no doubt the universe would send me exactly the person I was meant to meet up with.
Not even five minutes later it was already done. Kristin to the rescue! As soon as she responded, I deleted my Facebook status so it wouldn't become complicated hahaha.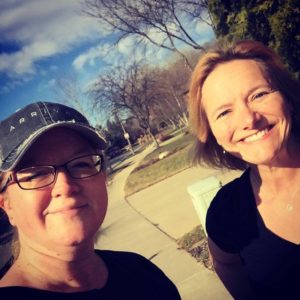 Kris was ready to hit the trails at 2 pm and we soaked in that fantastic sunshine and fresh air while catching up on each others' worlds. Our walk around the lake was exactly what I was looking for, I just hadn't known until she responded to my SOS!
My all-call was answered quicker than I could have imagined. I'll definitely employ the Facebook status strategy again. Friends, next time you are feeling less than ready to burn some calories alone, reach out. Asking for a workout buddy is one more very simple way we can all put our Best Foot Forward!
PSA: Please keep in mind, for safety sake, stick to your friends list, not Craigslist!